Get Going on a Charlotte Greenway
A maze of trails connect destinations and promote health and wellness.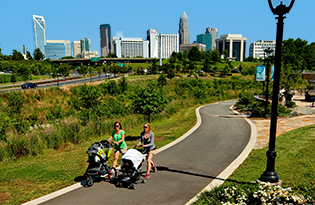 Charlotte is a great outdoor city most all year round. From tennis and golf to youth sports fields, swimming and skateboard parks, there is no shortage of places to play.
But did you know that the No. 1 requested amenity that residents want is paved walking and biking trails? According to a recent survey included in the 2014 Mecklenburg County Park and Recreation Master Plan, 73 percent of households want tree-lined greenways more than any other recreational service.
"The popularity of greenways stems from their accessibility, the events and festivals structured around them and our commitment to aligning their development with stream restoration so birds and wildlife can thrive," says Gwen Cook, planner for the Charlotte Mecklenburg County Parks and Recreation Department.
The county currently has 37 miles of paved greenways with another 165 planned. On the north side of town, find the Toby Creek Greenway, which crosses the UNC Charlotte campus and connects to Mallard Creek Greenway. The 1.6-mile path winds through a floodplain forest under a canopy of mature Sugarberry, Box Elder, Tulip Poplar and Sycamore trees. Look for many species of butterflies, squirrels and even coyotes.
Four Mile Creek Greenway, Lower McAlpine Greenway and the McMullen Creek Greenway connect on the south side of Charlotte between Rea Road and Pineville-Matthews Road by nearly six miles of paved, gravel and boardwalk greenway. "I like to walk there with my kids or even with my 89-year-old father,"says south Charlotte resident Beth Winterfield. There you will find the park system's first documented Great Blue Heron rookery, as well as the American Redstart and the Scarlet Tanager. (Check the website for temporary closings for construction).
In midtown, there are three sections of Little Sugar Creek Greenway, totaling more than five miles of paved urban greenway. When complete, it will feature more than 19 miles of trails and connectors linking destinations from the north part of the county all the way to the South Carolina line.
There has been much talk about the Carolina Thread Trail, a proposed network of 500 miles of greenway that will reach 15 counties and 2.3 million citizens. Some trails will link with existing trails in the Charlotte Mecklenburg Park and Recreation Department system. Thus far, more than 100 miles has opened; many of these are natural surface trails. For example, take a walk on the Pharr Family Nature Trail in Midland along side the scenic Rocky River and spring wildflowers. The property also includes a put-in point for canoes and kayaks. When complete, the entire system will provide alternative transportation, recreation, connectivity, health and wellness and conservation corridors to people all over the region.