Geocaching: Buying and Using a GPS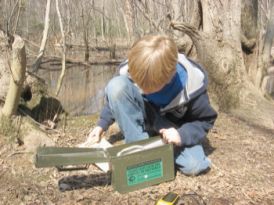 Geocaching requires only a GPS that you can carry with you and enter coordinates. The $600 model may be tempting, but you'll only need the basic features.
You might want to consider a GPS with a color screen, said Bob Palmer, because black-and-white screens can be difficult to see in the sunlight.
Additional features like an electronic compass and high accuracy can be helpful.
Handheld GPS units can be purchased at stores such as REI and Dick's Sporting Goods.
Store staff members can show you how to use a GPS, or you can try these places:
U.S. National Whitewater Center
Rents GPS for $10/2 hours for the center's educational "Eco Caching" program. On-site staff will show you how to use the GPS and give you cache coordinates. www.usnwc.org/Eco-Caching.html
North Carolina Zoo Beginners Geocaching Program
Check this Web site for upcoming Geocaching introductory workshops for families, where you'll get hands-on experience using a GPS the zoo provides. www.nczoo.com/Events/
REI
This outdoor store in Pineville occasionally offers classes on buying and using a handheld GPS. The next class is in June.