Gearing Up for Summer Camp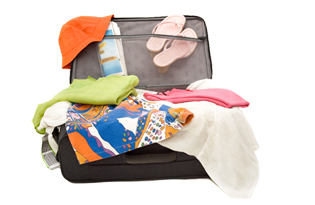 Packing for summer camp is, for many families, much like the annual to-do surrounding the choosing and buying of school supplies. The kids spend hours laboring over the suggest packing list from the camp, adding their own special touches and must-haves to the mix. And they look forward – with the kind of near-frenzied delight usually reserved for, say, Justin Bieber concerts – to the requisite trips to Walmart and Target.
But before you rush out to buy a stack of new stuff, consult the camp's suggested packing list. Lists will vary from camp to camp based on specific program needs. Traditional, outdoor camps require different things than sports camps, academic programs require different things than adventure or travel camps, and so forth. So, if you haven't received a list of what to bring to your child's camp, call to request one. Generic lists probably won't do you any good.
Camps often also recommend specific kinds of luggage, trunks or footlockers. If possible, follow their recommendations because they have experience with their facilities and storage capacity, and know what works best.

Pack old things and pack lightly.
Keep in mind that families don't need to go overboard buying new things before camp. Usually, you can find almost everything yours campers will need in your house. New toiletries and incidentals are one thing, but new clothes, towels and linens are another. In fact, when it comes to these items, camp staff members agree – the older, the better.
Campers are less likely to lose items when they don't bring as much stuff; they're also less likely to care deeply if old things get lost or damaged. If you must send new clothes or linens, remember to launder them before packing them. Shrinkage and discoloration are often problems for kids who do laundry – perhaps for the first time – at camp.

Label everything.
Everyone brings white socks and a pair of jeans to camp. And almost everyone brings a blue towel and a pair of black shorts. How do campers tell them apart when they get mixed up at the pool, in the bathroom or in their cabin?
They don't.
Jon C. Malinowski and Christopher Thurber, authors of The Summer Camp Handbook (Perspective Publishing, 2000), agree. "If you haven't labeled it, there's no hope of getting it back." They recommend three methods of labeling: indelible ink stamps, laundry marking pens and iron-on/sew-on labels.

Leave valuables (and contraband) at home.
Expensive items don't belong at camp. Things get lost, things get stolen, and some things get damaged in the hectic fun of camp life. Campers should leave their valuables at home where they'll be safe.
Specifically, the American Camping Association recommends that you leave the following items at home.
iPods, MP3 players
Televisions or portable video games
Cellular phones or pagers
Food
Hunting or pocket knives
Fireworks of any kind
Expensive clothing or jewelry
Of course, campers are strictly forbidden to bring alcohol, drugs or weapons to camp.

What they don't tell you to bring.
Camp packing lists are comprehensive about what campers need. But don't overlook the things they'll want.
Childhood pillows, pictures from home, favorite books and magazines, contact with Mom and Dad. These are the things that many campers miss the most when they're away at camp. Consider sending a few comfort items along to help ease anxiety. Small stuffed animals and pre-written letters go a long way toward making campers feel at home and heading homesickness off at the pass.
Cathy Ashby is a former camp counselor and director.
> Read on for Tips to pack like a pro