Game On! 6 Adult Places to Play with Family Hours
Be a winner and take the crew to these Charlotte hot spots with lots of ways to have fun.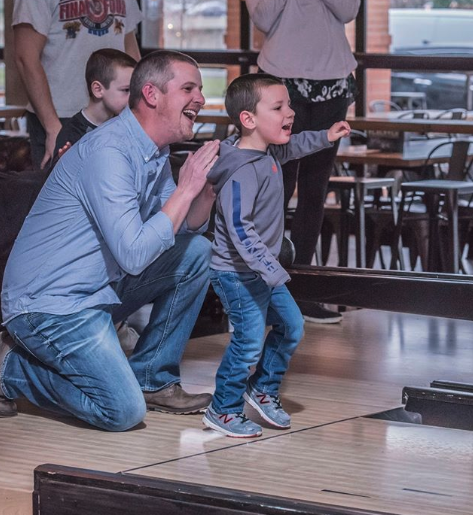 Charlotte has seen an explosion of indoor places to play geared toward grown-ups, but did you know many of these hip spots offer hours when families are welcome to join the fun? No matter the weather, you can stay warm and dry while trying your hand at duckpin bowling, giant Jenga, ping pong, skee-ball, basketball, pinball, shuffleboard and other games that will have you cheering. Many locations offer full service restaurants or food trucks so you don't have to slow down when the competition starts heating up. Whatever your game of choice, taking the kids for a great day out is always a winner!
Located in Plaza Midwood, Pinhouse offers duckpin bowling which is a variation on traditional bowling with smaller balls and 10 short and squat pins for $3 per person per game Sunday through Thursday. This venue doesn't have specific "over 21" hours and notes most families come during day hours while evenings are more adult-oriented. While the kids try their luck at duckpin, parents can sample up to 32 ounces of beer, wine and ciders on tap using a wristband linked to a debit or credit card. Between games, fill up on food truck fare at Twisted Eats. 2306 Central Ave, Charlotte, NC 28205.
If you want to show your kids what video games were like when you were growing up, head to Abari for an afternoon of classic gaming. All ages are welcome on Saturdays and Sundays from noon-5 p.m. with a parent or guardian 21 and older. There's a full bar for grown-ups and sodas, juice and water to keep the younger set happy. Go old school with Mario Brothers, Ms. Pac-Man, Frogger and Space Invader video games, test your thumb speed on the classic game consoles and rack up the points on Lord of the Rings, the Addam's Family, Ghost Busters, Stranger Things and Jurassic Park-themed pinball machines. Arcade games are $.25 per game and pinball is $.50 per game. Consoles are free. 1721 N Davidson St, Charlotte, NC 28206. 980-430-4587.
For the family who prefers a little Mexican flair with their gaming experience, head to El Thrifty Social in Optimist Hall. You can fill up on chips, queso, street tacos and more at the full-service restaurant then stay and swing at the golf simulator or play duckpin bowling ($15 for 30 minutes/$25 for 1 hour), shuffleboard ($5 for unlimited play), basketball pop-a-shot ($1 per game) or Hockey de Aire (air hockey for $1 per game). 1115 N Brevard St #202, Charlotte, NC 28206. 980-949-7837
So the family is ready for a hot round of miniature golf but the weather isn't cooperating? That's the perfect opportunity to try Stroke in Plaza Midwood – a nine-hole indoor golf facility with a 1970s laid back vibe. Kids are welcome during regular business hours until 7:30 p.m. Stroke serves clubhouse finger food (including hot dogs!) and craft cocktails and the first round is free for new members. After the free round, a game is $10 per person and a $10 annual membership fee is required. Now you have no excuse not to perfect your windmill shot! 1318 Pecan Ave Ste 101, Charlotte, NC 28205. 980-556-7746.
You might have driven by the HUGE Topgolf facility off Arrowood Road and thought, "I wonder if I should take the kids there?" YES! Topgolf is family-friendly including a Topgolf KidsZone email program where kids 12 and under can participate in events and enjoy a free kids meal on their birthday. Rent a bay (for up to 6 people) for a few hours or the day and let everyone tee up and experience the golf simulator. All levels are welcome to play and (bonus!) you don't have to go searching for missing golf balls. The popular facility with 100+ climate-controlled hitting bays includes a full-service restaurant and bar, over 200 TVs, free Wi-Fi, rooftop terrace with firepit and gaming lounge. Memberships start at $5 and can be purchased online or in person. Anyone under 16 must be supervised by a guest who is 21 or older at all times, and after 9 p.m., anyone under 18 must be supervised by a guest 21 or older. 8024 Savoy Corporate Dr, Charlotte, NC 28273. 704-612-4745.
If you are a well-rounded gamer, Pins Mechanical Co. is for you. This place has tons of ways to keep competitors entertained for the afternoon. Pins Mechanical welcomes all ages until 8 p.m. and games and lanes are available on a first come, first serve basis. Duckpin bowling is $6 a game per person, pinball and foosball are $.50 per game, ping pong and Bocce ball are $10 per hour or $6 for a half-hour. Plus you can play giant Jenga, giant Connect Four, arcade games, console games, and skee ball for FREE! Pins Mechanical has a full bar with drink specials and food trucks so you won't have to slow down to fuel up. 307 W Tremont Ave, Charlotte, NC 28203. 980-556-7746.
Try out a cool new place in Charlotte and bring the kids for the ultimate win. You are sure to find a great spot with tons of ways to play.
Courtney McLaughlin is a freelance writer in Charlotte who can't be stopped in giant Jenga.