Fun Ways to Document Your Baby's First Year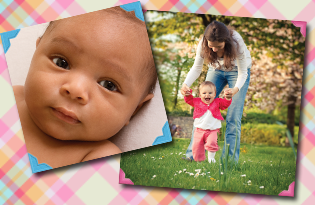 Baby's first year is filled with milestones and memories — the first smile, the first tooth — maybe even the first steps or words. Documenting these memorable times is often easier said than done. Ways parents can capture the quickly changing early months and years of a child's life is to "take lots of pictures, save their memorabilia, and keep a little calendar or journal of all the things that they are feeling or experiencing," says Judy Gallagher, a Creative Memories scrapbooking consultant in Raleigh.
Feel like a tall order? Whether you're a tech-savvy parent with digital design chops or a hands-on crafter with creativity to spare, there's a method to help you skillfully document that precious first year.
Picture it
Babies change in the blink of an eye, and there's no easier way to see that than through photos. "Photographs are a moment in time captured forever," says Nicole Rogers, a family and baby photographer and mother of one in Charlotte. "We can look back at them and remember what our children looked like at 6 months old, how they used to fit inside a basket or a chair.
To capture the changes, take a photo of your baby once a month (or once a week if you're feeling ambitious) in the same colored outfit and in the same location. By the end of the year, you'll have an amazingly visual reminder of how much your child has grown.
To note the specific months, weeks or milestones, make custom cards to place beside your baby in each photo. If you're tech-savvy, skip the cards and layer text over the photos using Photoshop or another photo-editing program.
Online retailers offer customized monthly bodysuits in corresponding sizes. You can even download free iron-on templates at marthastewart.com to craft the outfits yourself.
Photos taken from each of your baby's first 12 months can be used to create a calendar for the next year. Apple users can use iPhoto to select a group of photos and create a personalized calendar. Add notes to special dates and click to purchase when your design is complete. Snapfish.com, shutterfly.com and vistaprint.com offer similar services, as do retailers such as Kinkos, Walgreens and CVS. Shuttercal.com, another digital option, allows users to upload a photo each day, then organize the images in a calendar format.
Craft it
While scrapbooking can take up a lot of time, Tracy Gilley, owner of Scrapbook Traditions in Winston-Salem, says that might be just what a new mom needs. "Scrapbooking is a huge stress reliever, and 'me time' is vital, especially to new moms," she says.
Parents who feel overwhelmed but still want to scrapbook the memories can take advantage of Scrapbook Traditions "scrap-for-hire" service.
"We have a lot of new moms who hire us to scrapbook that first hectic year and then continue what we have begun for them on their own as their lives adjust," she says.
The full-service shop also offers customized papers, one-on-one appointments and baby showers during which every guest creates a spread for the mom-to-be.
For busy parents, Creative Memories also offers quick-books with predecorated pages, stickers and accents to help simplify the process.
Digitize it
Emmbook for Baby allows users to record milestones through text and photos, then share them electronically with family and friends. It also works as a diary for feedings, sleep, diaper changes and more.Technology-based baby books are perfect for on-the-go parents who frequently use smartphones or tablet computers.
Baby Book for Android and Baby Milestones offer similar features. These apps allow you to manage details about your child, add events, browse your photo gallery to select pictures to share and more.
A high-tech spin on traditional baby books is a digital photo album. It allows users to import their own photos into professionally designed pages and layouts, some more customized than others, available with hard or soft cover and available in various sizes. Shutterfly.com, snapfish.com, mixbook.com and vistaprint.com all offer baby-specific books and themes.
Katrina Tauchen is a freelance writer, editor and new mom who lives in Durham. She blogs at splashofsomething.com.

Creative Memorabilia
Looking for a unique way to preserve special milestones and moments? The Patchwork Bear makes one-of-a-kind memory quilts and patchwork bears from outgrown baby clothes. Just send six to 10 outfits to the company's headquarters in Princeton, N.J., and allow two to four weeks for completion and delivery. ($98; thepatchworkbear.com)
The Paloma Poster is a fun, graphic way to chart facts and figures that make up your baby's first year, such as head-circumference comparisons to favorite foods, depicted in line graph form. ($150, $45 for a standard milestone poster; strangebirdy.com)
Numerous blog sites also offer customized digital baby book options that feature original templates with printable pages, writable PDFs or InDesign documents. A few to try:
On the Day I Was Born via Life as You Live It – lifeasyouliveit.com
Chevron Baby Book Template via Hanna Mac – blog.hannamac.com
Free DIY Baby Book via Young House Love – younghouselove.com
Related Links: 
> Get expert tips for photographing babies