From Piggy Bank to Stock Market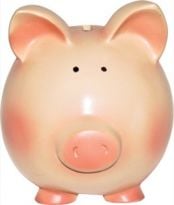 Quick, answer this question: My kids will learn about money:
A. at school.
B. from me.
C. when they grow up.
If you answered your kids will learn their financial skills at home, you're right.
"Parents assume these skills are being taught in school," says Sara Thompson of Mooresville-based LifeWithBills.com. Even though financial literacy is a part of school programs, educators are under pressure to cover many subjects.
Teachers are crunched for time, and one result is a serious gap in curriculum, says Erin Scheithe who is with the N.C. Bankers Association in Raleigh. As children advance through elementary and middle school years, the results become painfully obvious: High school students in North Carolina fall below the national average in financial literacy testing.
If the financial-skills buck stops with you, as a parent, how and when do you start teaching your kids about money? Experts advise, right now — whether they are 3 or 13. Kids can process surprisingly complex information about budgets, money and even the stock market, and there are plenty of resources to help.
Talking About Money
It starts with a conversation. "Finances are a taboo subject in many families," says Scheithe. But talking about the family budget is one of the best ways to start very young children on the path to understanding the world of money.
Catherine Kiefer, a Charlotte mom of two, puts this into practice with her boys, both under the age of 7. "We speak about family finances in a general sense and in a positive way in front of the kids," explains Kiefer.
Scheithe suggests incorporating teachable moments into everyday conversations. "Grocery trips present a perfect opportunity to teach the difference between needs and wants — one of the most basic financial literacy concepts."
Spending Wisely
Next, venture beyond the grocery store to find ways to present meaningful choices to kids. This might include a trip to the department store or toy store where, according to Scheithe, you can explain why they can't have the most expensive sneakers or the latest Nintendo game.
Scheithe recommends taking children to Moneypalooza, the newest exhibit at Marbles Kids Museum in Raleigh designed for students in kindergarten through third grade. Teacher input was used extensively during the design phase, she says, and feedback on the finished product is that it "hits the sweet spot of basic economic concepts and fun."
As kids get into middle school and high school, teaching them about responsible money management becomes more crucial, says Sara Thompson of LifeWithBills.com. Frustrated by what she and her business partner viewed as a frightening lack of basic financial skills among young adults, Thompson and Samantha Edwards created LifeWithBills.com, a simulation program that allows teens to learn about finances through real-life situations, including getting a pay check, opening checking and savings accounts, writing checks, and using credit cards.
Sharing Generously
While children are learning about spending, teach them how to share. Elizabeth Jordan, a mom of two, places a high priority on community service. Founder of the Raleigh-based KidsConnectNC.org, she strives to find ways for parents with young children to volunteer as a family.
Jordan's oldest child Jack, 5, has been accompanying his mom on trips to deliver Meals on Wheels since before he could walk. Now that he receives an allowance of his own for small household chores, Jordan sees a strong link between Jack's hands-on volunteer experience and the financial choices he makes.
"Jack looked at his allowance and asked if he could give it to the people we take lunches to," she explains. "Giving is so much more meaningful for him. It would have been a vague concept otherwise."
Saving and Investing
Once children are ready to graduate from a piggy bank to a savings account, many local banks offer accounts designed just for them. Kiefer's son started with a savings account, then he switched to a mutual fund. This has given her the opportunity to introduce new financial concepts.
"It's fun to talk about this with the kids," she says. "How the account will fluctuate, and how it's a little riskier than a savings account."
Another option is The Stock Market Game, sponsored by the N.C. Council on Economic Education (www.nccee.org). Director Sandy Wheat says the game most commonly is used in groups, with teachers as advisors, but parents also can individually register children.
The game, where students manage a mock $100,000 portfolio, is generally recommended for students in fourth grade and up. There are support materials available for teachers (or parents) who advise student teams, including a "Math Behind the Market" guide that provides support for the graphing, word problems, trending and more. In a two-year study released last July, students who played the game "showed an improved grasp of financial literacy skills, as expected," says Wheat, adding math scores for students in grades 4 through 7 improved by nearly a full school year by the end of the 10-week simulation.
The N.C. Council on Economic Education recently announced a $10,000 grant from Fidelity Investments to engage some 3,000 eighth-grade students statewide in the game this spring.
The Bottom Line
Most important in helping children learn positive lessons about money is to get started. "These are complex concepts," says Wheat, "but kids catch on quickly. We think it's important for kids to understand the concepts of banking — how to balance their checkbook, etc. — but they also need to understand the economic concepts that go into those decisions." Wheat cited the concept of scarcity, for example, noting children need to realize "that resources are limited."
Andrew Brod, an economist and the director of the Center for Business and Economic Research at UNC Greensboro's Bryan School of Business and Economics agrees. "There are two main lessons to teach children about money: scarcity and saving," he says. "The most important lessons are the simplest. We can't have everything we want, and therefore, we have to make — and be OK with — our choices."