Freshen Up for Spring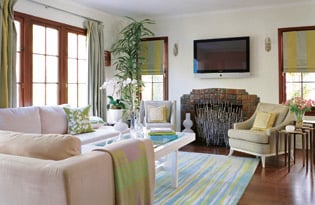 As the colors, smells and textures begin to turn to the next season, many moms begin to think about freshening up the inside of their homes. One easy way to update any home is to add a fresh scent, and with so many annuals and flowering bushes beginning to bloom, spring is the perfect time to think about bring nature's aroma indoors.
Interior designer, home trend expert and frequent guest on HGTV Erinn Valencich knows exactly how to make small changes that can have a big impact. "Scent is a fantastic way to make any room feel welcoming and complete without making any major renovations, which can be expensive and permanent," she says. "Families today are searching for easy solutions to revamp their living spaces without breaking the bank, and my customers often don't realize that décor and scent are closely connected. Discovering a signature fragrance will tremendously add to a room's design by creating a warm and inviting atmosphere," she notes.
Valencich has partnered with Glade Sense & Spray Automatic Freshener, and she encourages women to get inspired by the variety of vibrant colors and aromas each season brings. Matching fragrance to the look and style of the room, whether with colorful new throw pillows or a faux flower arrangement, makes updating a room easy and cost-effective.
"Having a beautifully scented room encourages guests to linger in the space, relax and enjoy themselves, because it is a positive reinforcement of the environment. I like the newly designed Glade Sense & Spray Automatic Freshener because it is dependable and can be incorporated into any room's décor. The neutral colored vase-like design will look nice in any room while keeping the home smelling fresh with a desirable personalized fragrance."
Here are some budget-friendly tips to update any room by stimulating the senses through color, texture and scent:
Think outside the box. Look at items purely based on color and see a room in a whole new light. Valencich says painting an accent wall is one of the easiest ways to bring a fresh pop of color into a room. To make the room cohesive, pick three accessories in that same color and position them around the room in a triangle pattern. This could be a few new throw pillows on the sofa and a vase on the mantle with a few chic blooms. Coffee table books with jackets in the accent color work great as styling accessories, as well.
Update with small changes. If a chic décor is a personal favorite, mix vintage-inspired fabrics, like florals and stripes, with worn pieces. Update drawers and side tables with new knobs. Add comfort and an easy-to-care-for element with soft, slip-covered sofas and chairs. And don't forget the soft scent of Glade's Lavender & Vanilla.
Bring the outdoors in. Greenery is often overlooked in a home but really gives a room life. If a live tree is too much of a commitment, incorporate an artificial tree, plant or arrangement. Use a stylish pot and cover it with moss to create an inexpensive accessory.
Create visual and tactile variety. Achieve a warm and inviting atmosphere using soft lighting with lamps and dimmers. Also use a variety of textures in the room. If there's a lot of wood already, opt for a side table made from glass and metal, and choose upholstered dining chairs instead of using additional wood.
Lighten up with a casual, beach-inspired look. Mix aged wooden pieces, like a distressed end table topped with several old metal cans holding fresh or artificial flowers, with a more formal collection of white intricate floral detailed vases. For a sunroom or porch, bring in an island influence with bamboo furniture or frames. The mix of old and new, with punches of soft blues and greens, creates a casual elegance. And Glade's Hawaiian Breeze is the perfect scent for a finishing touch – the airy, fruity scent is laid back and reminiscent of an ocean breeze.
Article courtest of FamilyFeatures.com; for more easy decorating tips, visit www.GladeScentandStyle.com.