French Toast with Fruit and Vanilla Egg Custard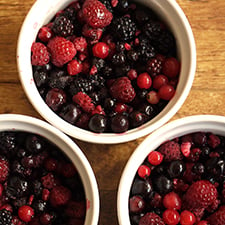 Let your springtime family brunching kick off with a celebration in honor of Mom. This rich French toast recipe uses store bought croissants, local eggs and honey and fresh organic fruit – a great way to start the day.
Ingredients
1 cup organic whole milk
3 local eggs
2 tablespoons local honey
1-2 tablespoons vanilla extract
1/4 teaspoon salt
12 mini croissants
4 tablespoons butter
Fresh fruit, such as local berries, cubed mango, cherries and/or melon
3 tablespoons orange juice concentrate, defrosted by not diluted
Directions
1. Whisk together the milk, eggs, honey, vanilla, and salt.
2. Slice croissants almost in half to make a pocket of sorts.
3. Combine your favorite mix of local or organic berries with melon or cherries, and toss well with the orange juice concentrate to blend.
4. Soak the cut croissants in the milk and honey mix for a minute or two on each side, and then remove to a sauté pan ready with hot melted butter.
5. Brown the croissants on both sides.  Then, remove from the pan, if you need to, keep them warm in oven until ready to serve.
6. Toss fresh fruit to blend well. Stuff toast with fruit and finish with a dusting of powdered sugar.
Tip: Buy local berries this time of year at any one of Charlotte's area farmer's markets. Find a farmers market near you.
Heidi Billotto Recipe is a culinary expert who hosts cooking classes throughout the Charlotte area. Find more at heidibillottofood.com.