Four Local Health Experts Balance Working and a Healthy Family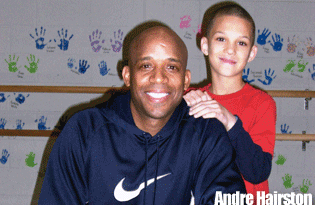 We've heard the doctors tell us, and we've read the headlines. Our kids need 60 minutes of exercise a day, and they're supposed to eat lots of fresh fruits and vegetables. Beverage choices should be water over caffeine- and sugar-laden soda.
Foremost is that we must live healthy lifestyles and be good role models. Four local health experts share their tips for balancing busy schedules and the stresses of parenting, while keeping their kids healthy. Here's a look at their lives behind the scenes.
Talking Positively About Healthy Options
Drs. Catherine (pediatrician) and David (pediatric cardiologist) Ohmstede
The parents of Eleanor, 3, and Henry, nearly 2, Drs. David and Catherine Ohmstede are doing the best they can to raise their children to know and value a healthy lifestyle.
"We're blessed with a daughter who will eat virtually anything we put in front of her," says David, who is a pediatric cardiologist with Presbyterian Pediatric Cardiology. "We're thankful for that and offer her healthy options."
Catherine, a pediatrician with Dilworth Pediatrics, says "We try to make things positive without a lot of negative restrictions. We talk a lot about healthy foods we can eat every day and junk food or treats we eat only once in awhile."
Fast food is a choice on road trips. "Usually we stop at Chick-fil-A, because there's an indoor climbing space for the kids to get some exercise," says David. The Ohmstedes enjoy the fruit salad and yogurt parfait, but David adds, "They do get their chicken nuggets, too."
As far as winter colds and flu, the children stay fairly healthy. "I do recommend getting a flu shot," says Catherine. "It's never too late — the flu season ran into April last year."
Both the kids are in day care, and washing hands is a priority for the family. "It's second nature in our house, and I carry wipes for hands and the grocery cart at Harris Teeter," says Catherine. "We only have three things in our medicine cabinet: Tylenol, ibuprofen and acidophilus," she adds.
Because most upper respiratory viruses are self-limiting and go away in about a week, she says physicians now adhere to the FDA recommendation that over-the-counter cough and cold medicines are not safe or effective in infants and young children.
The Ohmstedes prioritize outside time for play. For most Charlotte families, the biggest challenge, they say, is finding unstructured time for children to explore, be creative and be outside. The Ohmstedes enjoy walking around their neighborhood and going to Freedom Park. Sometimes on weeknights, Eleanor and Henry run around on the patio with flashlights.
"In the winter, if families don't live in safe neighborhoods, I encourage them to go to the mall or somewhere at least where kids can be on their feet," says Catherine. "And I tell the parents of my patients to try not to turn on the television until the kids go to bed, instead of having it on all the time for background noise. In our house, Eleanor gets 15 minutes of TV time before she reads bedtime books."
Unplugging from electronics is the first step, advise the Ohmstedes. "Children are naturally active and playful," says Catherine. Forget gym clothes and formal programs, parents just need to be good role models and remember to spend time with their kids moving about outdoors.
Making Fitness Fun
Andre Hairston, Cardio Funk fitness instructor
Andre Hairston is a single dad, actor/playwrite and the cardio funk guru of Charlotte. Mention his name in a group of women and at least one will have attended his class — an energy-packed, 60 minutes of music and dancing. Lately, even young kids can be seen at his classes, including his 9-year-old son Michael.
"Whole families are coming to my classes at Myers Park Presbyterian and that is very inspirational," says Hairson. "It makes me happy to think I'm impacting not just the life of one person, but I have the opportunity to impact the whole family."
Hairston, who lives in Ballantyne, started teaching cardio funk in 2008 at the Harris Y, and now leads hundreds of local followers weekly, but it didn't start there. Growing up in Eden, North Carolina, his mom made sure he was active and involved in sports year round. When a stroke 15 years ago, left her unable to walk or talk, Hairston was inspired to get serious about helping people get healthy and stay healthy. His mission is to create a class that inspires people to start exercising and really stick with it.
"Michael just started taking the [cardio funk] class. I think he's inspired because there are other little boys in there. He thinks it's cool."
Though Hairston knows many families struggle with getting kids active and away from the television, motivating Michael to get moving is never a problem.
"He's always gung ho to go," adds Hairston. "He has more energy than I do." Hairston recommends families incorporate fitness with fun, going to parks and getting outside. "We go to Freedom Park a lot and I let him run crazy out there. Just being on the playground is good exercise," says Hairson.
At dinnertime, Hairston faces the same nutrition challenges as many families. Although he has been a vegetarian for more than 20 years, Michael is decidedly not. "He'd eat a possum if it was cooked right," jokes Hairston, "And like all kids, he likes sugar. I just have to make sure that I limit his sugar intake, and he gets all of his fruits and vegetables."
Many local parents share with him the difficulty of trying to balance their daily parenting routine — homework help, extracurricular activities, preparing meals — with finding time for fitness. He admits it's not easy, but believes you have to look at the bigger picture.
"Even if you don't feel like going to the gym or working out at home, it's good for you – it's teaching your children those good habits. If you have healthy kids, and you teach them how to have healthy lifestyles as children, more than likely they are going to grow up to be healthy adults."
Planning Healthly Meals Ahead
Alicia Fogarty, registered dietitian for CMC Health Centers/YMCA of Greater Charlotte
A busy mother of three girls — Brynn, 5, Finley, 3, and Cardin, nearly 1 — Alicia Fogarty says her biggest food passion is food itself. "I love to cook, and I love the challenge of making healthy foods for my family they enjoy eating."
The registered dietitian says she believes "everything in moderation." Fogarty makes sure her family eats fruits, vegetables, whole grains and calcium sources every day. "I make sure my children get fruit for every meal, so most meals end with fruit rather than a dessert," she says. "We also offer vegetables at every lunch and dinner, pairing ones they are likely to eat with ones they may be more resistant to."
"We limit television to one or two half-hour shows a day, and if they want a snack, we serve them veggies. If they are watching something while I'm preparing dinner, they're asking for carrots!"
Fogarty says her own mother put a home-cooked meal on the table almost every night and had fresh fruits and vegetables available to eat all the time. "I feel a family meal is very important, and with home-cooked foods you have more control over the preparation methods."
To avoid the pitfalls of fast food, Fogarty plans her weekly menus in advance. She says many of her clients fall into the "what's-for-dinner?" trap, and they just go out or order in. "Life is busy, so when I do have time to make meals, often I will make extra to freeze and be able to have something healthy, rather than resorting to fast food."
She believes the most damaging food for children is excess snack and junk foods too much – sugar, fat and sodium — as well as sweetened beverages. "Does that mean that I say "no" all the time? Of course not, but too much is part of the obesity epidemic."
The Fogarty family go to Zoey's kitchen for a night out and order the grilled chicken kabob dinner for four. She also recommends Earth Fare Café as an excellent alternative to fast food.
When working with families, Fogarty helps them try to find a happy medium between convenience and health. "Most parents can't just stop working, and having kids in sports is a good thing for activity, but challenging to a schedule."
Modeling healthy choices is important, and telling kids to do what you say (rather than what you do) doesn't work. "Your children learn from you, and if they see you eating unhealthy or not eating your fruits and vegetables, they will catch on." CP

Find out more about them
Andre Hairston's Cardio Funk Class
Alicia Fogerty – Nutrition & Wellness Program Harris Y
Dr. Catherine Ohmstede – pediatrics  and   Dr. David Ohmstede – cardiology