For the Love of Music: A Charlotte Symphony Romance
Matchmaking at the 'Magic of Christmas' leads to much more.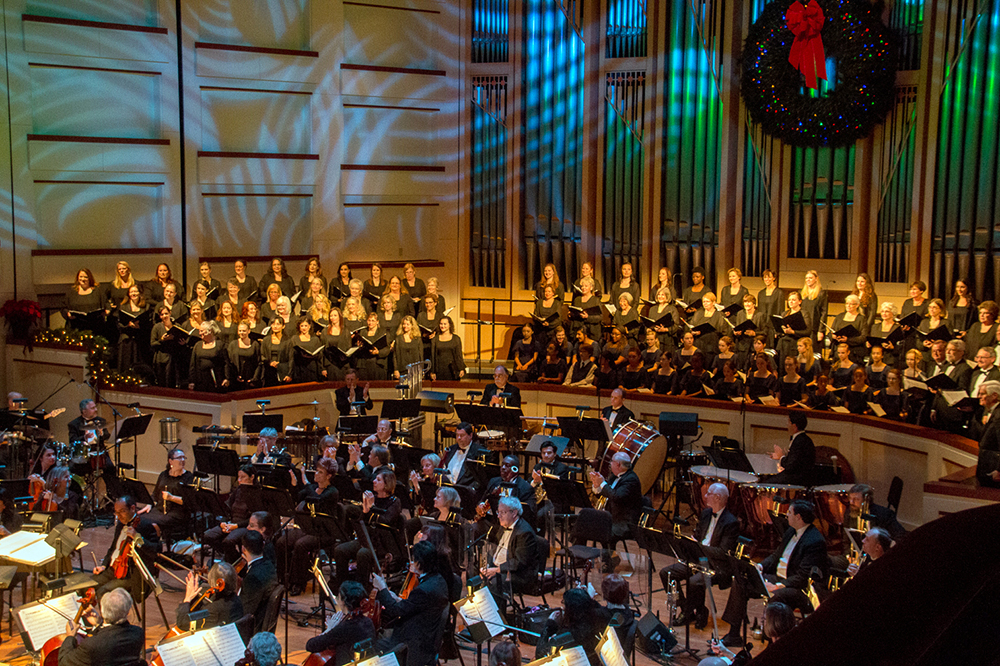 It was 1998 when Heather Potter was singing with the Oratorio Singers. Kenney Potter was teaching chorus at East Gaston High School in Mount Holly. The Oratorio Singers of Charlotte were performing in the Charlotte Symphony Orchestra's "Magic of Christmas" concert. East Gaston had been invited to participate in the popular annual event.
"The high school girls were always trying to set me up," Kenney recalls. "That's just what high school girls do. It was all very innocent, cute and sweet."
They spied Heather at a rehearsal, thought she was pretty and — unbeknownst to Kenney — approached her to ask if she was single.
"Her name is Heather, and she's available," they reported back to Kenney.
He approached Heather to apologize, but the apology turned into a request for a date, which led to a marriage proposal and eventually to a wedding (which the matchmakers happily attended!) and ultimately to two little Potters: Syble, 8, and Calvin, 3.
---
The Magic Continues
Fast forward 17 years later, Kenney is the Charlotte Symphony Orchestra's newly-appointed director of choruses. He also chairs the music department and is director of choral activities at Wingate University, which is his full-time job. His main responsibility with Charlotte Symphony Orchestra is to prepare the 140-member Charlotte Symphony Chorus, (formerly known as the Oratorio Singers of Charlotte) for its concerts. December is an especially busy time for Kenney and the chorus. In addition to the much-loved "Magic of Christmas" show, there's the equally beloved "Messiah." Rehearsals began in October.
Heather directs the children's choirs at Charlotte's Community School of the Arts. About 60 students make up the two choirs. Her concert choir performs in "The Magic of Christmas." She's working with them on traditional carols and, as well as a new orchestration of "Let it Go."
The couple also is deeply involved in the music program at their church, First Associate Reformed Presbyterian in Gastonia. Heather serves as director of music, and Kenney directs the adult choir.
---
A House of Song
The family's Dilworth household is always filled with song, but there's even more delight in music this time of year. No other season brings the joy of "Angels We Have Heard on High" and "O Come, All Ye Faithful."
The youngest Potters are already gifted singers. Heather says the kids get to pick the music they listen to in the car. "Syl" and Calvin request choral music, hymns and have a particular fondness for Bach, but they also like some of the same music every kid likes: "Frozen" is a frequent request.
And though there's plenty of singing in the Potter household, especially at Christmas, it's not all songs, all the time. "When we're not singing, we have football on," Kenney says.
"Dad has football on," Heather corrects.
To prevent holiday overload, the Potters have a "no-Christmas-music-until-Thanksgiving" rule in their house. Heather says that's actually Dad's rule; she and the kids would be happy to begin the carols in October. But after Thanksgiving, it's a "full-on onslaught," Kenney says. The musical styles they enjoy range from jazz to pop duets and from opera singer Anthony Dean Griffey to James Taylor, but Ella Fitzgerald is always featured prominently.
Beyond celebrating Jesus' birthday, there are other Potter traditions the whole family looks forward to at Christmas. They always go as a family to choose their tree, and they make a hot chocolate stop along the way.
Visits to see the lights in McAdenville and on Hillside Avenue in Myers Park are also favorite traditions. So is baking cookies.
The Potter household is always filled with song. But there's even more delight in music this time of year. No other season brings the joy of "Angels We Have Heard on High" and "O Come, All Ye Faithful."
---
Page Leggett is a freelance writer and Charlotte native who especially loves covering arts and culture. Her work appears regularly in The Charlotte Observer and SouthPark Magazine.
---
"The Magic of Christmas" is built on tradition, but Charlotte Symphony Orchestra introduces new elements each year, too. This year, dancers from Martha Connerton/Kinetic Works dance to the powerful "Celebro" from Stella Natalis and the awe-inspiring "Ave Maria." Children under 18 can get half-price tickets, making "The Magic of Christmas" a budget-friendly holiday outing for the whole family. The Charlotte Symphony Orchestra's "Magic of Christmas" runs from Dec. 3-6 at the Blumenthal Performing Arts Center. Tickets range from $25.50 to $84.50. Get tickets at charlottesymphony.org.