Flying Biscuit Cafe Is for Breakfast Lovers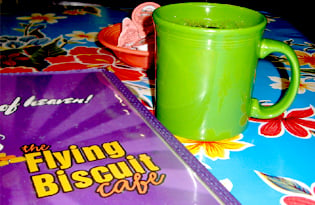 The Flying Biscuit Cafe is a Georgia-based chain that has made it's way into North Carolina with two locations in Charlotte. In the Park Road Shopping Center location, the décor is eclectic with a retro twist. The café serves up comfort food with a healthy slant and is frequently crowded with happy diners gobbling up the signature doughy biscuits with homemade cranberry apple butter.
If you're a breakfast lover, you'll feel right at home. Breakfast is served all day and big plates are the norm, filled with creamy southern-style grits, chicken sausage and oven-roasted rosemary potatoes. Turkey bacon, tofu substitutes, black beans and egg white scrambles will make health-conscious parents smile.
On one of our many visits, I ordered the Egg-Stravaganza, a smorgasbord of eggs, sausage, bacon, grits and a side of French toast with raspberry sauce and honey crème anglaise. A traditionalist, I prefer French toast with just a little syrup, so this slice was more like a decadent dessert. I heard no complaints from my husband, Chip.
Our 11-year-old ordered a black bean quesadilla with chicken for lunch, and my husband went for the biscuit potpie. The potpie was not the favorite, but eaten just the same.
On other occasions, I opted for a take out warm chicken salad and chicken club wrap. In both cases, the servings were ample, the food fresh, and the service speedy and friendly. Some dinner options include turkey meat loaf with pudge, (described as "… an old family recipe for garlic and basic mashed potatoes") oven-fried chicken and flat-iron steak.
The helpful wait staff dishes up a genuine dose of hospitality. Kids and parents are all made to feel welcome, and the children love the rooster greeting them at the front door. Front and back patios offer plenty of outdoor seating to enjoy in milder weather.
Wednesday is kids night from 5 p.m.-close, where all kids menu items are $1.99.
The Flying Biscuit Café, with ample parking in the Park Road Shopping Center lot, is a convenient place for a family weekend brunch, and a good neighborhood spot for moms to meet with the kids and relax over lunch.
THE CHOW DOWN
Flying Biscuit Cafe, 4241 Park Road
Dollar Deal: $$.$$ – $$.$$
Décor/Atmosphere: Eclectic and funky, retro diner
Kids' Menu: Little flyer (egg, bacon potatoes), chicken strips, mac-n-cheese, pancake, French toast. Wednesday is Kids' Night.
Amenities: High chairs and boosters; changing stations in restrooms
Got Milk/Juice: Yes
Phone: 704-714-3400
Website: www.flyingbiscuit.com
Other locations: Stonecrest, 7930 Rea Road, 704-295-4440