Flip, Flop & Fly: Gymnastics in Lake Norman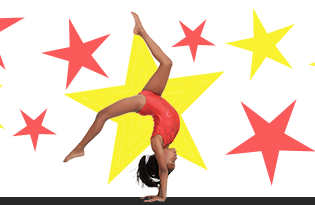 A young girl approaches the uneven bars, her calm expression conveying a maturity that seems greater than her nine years. A small smile and she begins her routine, a dizzying array of flips and releases, handstands and transitions from one bar to the next. Think you're at an Olympic event? Not exactly. Walk into any gym in the Lake Norman area and you're bound to catch this display of athleticism, strength and poise, even from the youngest competitors.
Gymnastics participation is growing at a rapid rate in our area, and research shows that the sport offers numerous benefits for children. Physically, gymnastics improves balance, flexibility, power, agility and rhythm. It offers a brain boost as well, teaching kids how to maintain attention and sustain concentration. Finally, it's a confidence builder, with classes providing opportunities to make friends and enhance social skills.
"Gymnastics is a comprehensive program that is developmental for athletes," said Cayce Putnam, Recreational Gymnastics and Tumbling Manager at White Lightning in Huntersville. "The level progressions that are followed establish cognitive, social, and physical development of our athletes. Gymnastics has the ability to build an athlete's self-esteem and confidence, while teaching sportsmanship, discipline and focus on the sport and to the team."
But don't believe that it's all work and no play. "Gymnastics is also fun for our athletes! They enjoy coming to the gym and spending time with their friends, all while building social skills and staying physically fit," continued Putnam.
Part of the appeal of gymnastics is that children, regardless of gender, can begin classes as early as age two. Mollie Gaby's daughter Jessica began at age four. Now eight, Jessica takes the bus from Davidson Elementary to the Lake Norman YMCA in Cornelius three afternoons a week, where she practices from 4:30 to 6:30.
"The best thing about it is that it's great exercise," said Gaby. "They're running, doing conditioning, working on strength and flexibility. After a long day at school, I love that she's getting her energy out in that kind of setting."
It's also helped bring Jessica, normally a shy child, out of her shell. The Lake Norman Y has a program pairing the girls into big sister/little sister relationships on the team, and the friendships that have ensued have boosted Jessica's self-confidence.
Of course, there are caveats. Though Jessica loves the sport, she's suffered two injuries this year- a fractured elbow and a sprained toe.
There's also the time commitment factor. In addition to the six hours of practice a week, there are the meets that Jessica competes in- some as close as Charlotte, others as far away as Georgia. Gaby estimates that her daughter competes in a meet a month, and that means not just time, but money. So in addition to monthly fees for classes, their family shells out dollars for meet registrations, hotel accomodations and extras such as warm-up suits.
For them, it's worth it. "She loves the competition and doesn't care if she wins or loses- she has fun."
Amy Salvatore Reiss is a freelance writer who lives in Davidson and is the mother of two young girls.
Read More:


View all Family Wellness articles