Flat Rock, NC: The Refuge of Poets and Playwrights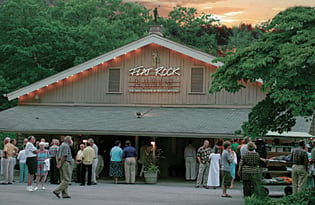 Flat Rock was once "the little Charleston of the mountains" – a popular retreat for well-to-do Carolinians escaping the summer heat. The mild mountain weather was exactly what attracted American poet Carl Sandburg to the area, leaving behind the extreme Michigan climate at the insistence of his wife and daughters. But what brought me here was the prospect of an easy family getaway, just hours from Charlotte, offering history, culture, open spaces and a chance to relax.
Sandburg was already a world-renowned poet, Pulitzer Prize-winning author and social justice champion when he moved to the western North Carolina farm named Connemara in 1945. He brought his wife, three daughters, two grandchildren and 14,000 volumes for his library when he took residence in the modest home perched on a hill above 264 beautiful acres in Flat Rock. The home, now a national historic site, remains exactly as the family left it years ago, making the guided tour feel as if the Sandburgs might return any minute. Though the 30-minute house tour may not hold the interest of younger children for long, a visit to the barn will certainly delight.
Lillian Sandburg operated a goat dairy from 1935 to 1965, raising three breeds of prize-winning goats, and the national park service keeps a small herd today for visitors to enjoy. Volunteers are available in the dairy barn to share information about the long-eared Chikaming goats, and children and parents can get up close and personal with them. Our son, 10, was fascinated with the herd, pointing out his favorites by name as they were identified by brass nameplates on their big leather collars. Several baby goats frolicked nearby. (Parent warning: The baby goats are cute! After leaving, we spent the better part of the day convincing our son that we could not adopt and take home a goat.)
The many miles of trails on this national historic site offer a great distraction and a chance to enjoy the beauty of the property. They stretch from the main home to the trout pond and over to Glassy Mountain, beckoning hikers to explore. Though no food is sold here, families are encouraged to bring a picnic and enjoy the natural setting. It's a great place to rest awhile and let the kids run and play in the open pastures.
If you forgot the picnic, then grab lunch at Hubba Hubba Smokehouse, after you leave the park for delicious smoky Carolina-style barbecue. It sits tucked behind the Flat Rock Village Bakery – a good stop for fresh-baked goods and coffee – and The Wrinkled Egg next door, the perfect little shop to browse for something unique.
A visit to this western Carolina town is not complete without taking in a show at the State Theater of North Carolina, Flat Rock Playhouse. The theater began in 1940, when Robroy Faquhar and his group the Vagabond Players presented their first summer season of plays in The Old Mill Playhouse. Fast-forward to today's playhouse: Actors take the stage in a barnlike state-of-the-art facility that seats 506 patrons and hosts more than 90,000 theater-lovers annually. The performers are professional, the sets are amazing and the entertainment is top-notch.
The 2012 season begins March 28 with "My Favorite Things: The Songs of Rodgers & Hammerstein" and runs through December, with performances five days a week. Some performances may not be appropriate for children, so be sure to check the schedule before making plans to attend.
Both Flat Rock and nearby Hendersonville offer accommodations for a variety of budgets, including bed-and-breakfast establishments, local inns and major chain hotels. CP
If you go, you need to know:
Carl Sandburg Home
81 Carl Sandburg Lane
828-693-4178
www.nps.gov/carl
Sandburg home tour: $5 adults (cash/check only).
Children under 16, free.
Free admission to park, grounds and barn.
Flat Rock Playhouse
2661 Greenville Highway
828-693-0731
www.flatrockplayhouse.org
Tickets: $40 (student and senior discounts available.)
Verify the venue, as a new stage in Hendersonville is now open.
Flat Rock Village Bakery
www.flatrockwoodfired.com/bakery
Hubba Hubba BBQ
www.hubbahubbasmokehouse.com
The Wrinkled Egg
www.thewrinkledegg.com
These establishments are grouped together in one location on Greenville Highway.