Five Reasons Why the North Carolina Zoo Draws Record Crowds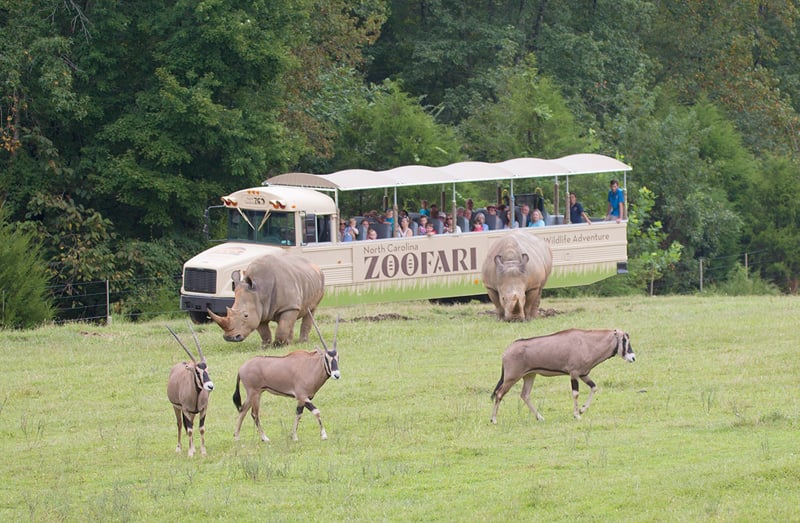 North Carolina Zoo officials recently reported that a record number of guests — 870,882 to be exact — visited during the 2016-17 fiscal year, which ended June 30. This year's total attendance exceeds last year's by nearly 75,000 guests and is second only to the attendance record set during the zoo's 1994-95 fiscal year when the zoo opened its North American region.
This year's attendance totals also received a boost from a change in the zoo's accounting practices. For the first time, the zoo counted children younger than 2 years of age (total 40,997) in its attendance figures, But, even when this demographic is subtracted from the year's total, the zoo still posted the second-highest attendance numbers in its history.
Attendance has soared to a 20-year high, boosted in part by mild winter temperatures, but zoo officials also credit this growing number to the nature-based, educational experiences available at the zoo and its recent additions.
Here are five reasons why the North Carolina Zoo draws record crowds — as well as what's new at the zoo.
1. Zoofari: An African Wildlife Adventure
Last year the Zoo opened Zoofari: An African Wildlife Adventure, which takes guests on an open-air safari bus inside the 40-acre grassland habitat featuring African animals such as rhinoceros and antelope. For 2017, the zoo expanded the popular Zoofari experience with tours at 10 a.m., 11 a.m. and noon, Thursday-Sunday. There's an additional admission charge of $20 for the attraction.
2. Dragonfly Paddle Boats
Using a bit of old-fashioned "pedal power," guests embark on a self-paced, 30-minute ride around the picturesque lake that borders Marsh Boardwalk. Canopies atop each pontoon paddle boat provide shelter from the summer sun. There is an additional admission charge of $5 for the attraction.
3. Dino Bus Ride
Dino bus ride past some very big, very realistic robotic dinosaurs that lets guests settle back and enjoy the sights. Whether a fan of the gentle and tall brachiosaurus, or the fast and furious T-Rex, guests see and learn about the behemoths that ruled the lands millions of years ago. Dino Bus is open for a limited time, through October 2017. There is an additional admission charge of $4 for the attraction.
4. Air Hike
Air Hike lets guests negotiate nature from the vantage point of the treetops. Nearly two dozen elevated obstacles test guests' will (and skill) as they navigate across 11 platforms. They'll be traversing tight ropes, swaying on swinging logs, bouncing on balance beams and weaving in and out of webbing. $12 additional fee per person.
5. Dino Island 4-D
Enjoy a show in a special effects theater in Junction Plaza. When volcanoes begin erupting on Dino Island, it is up to the Earth Science Team to save all the dinosaurs — including the only remaining T-Rex in the world! Are you brave enough to join this rescue mission? Photorealistic 3-D animation and special effects turn this wild chase into an unforgettable adventure. Open daily through October. Cost is $4.
The North Carolina Zoo is located in Asheboro. Plan your visit to the zoo at nczoo.org.
Source: North Carolina Zoo