Fit Family Challenge Week 1- The Best Laid Plans
The best laid plans sometimes don't work out.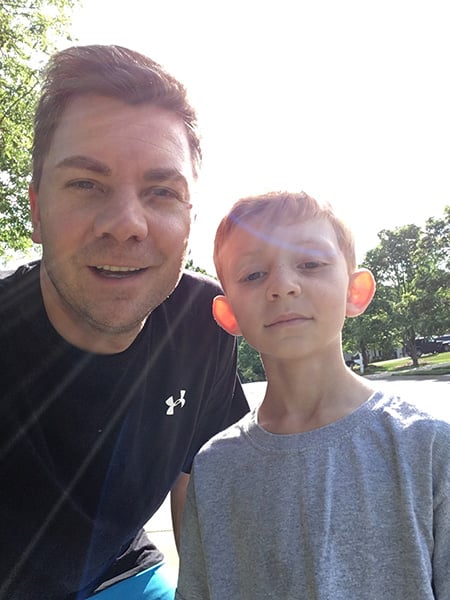 When our family of four started the Fit Family Challenge on May 1st, I figured we'd get off to a fast start. My sons Tyler, 7, and Chase, 5, are already active. My wife Kristen and I had already picked up the pace on our exercise, and our kids only want to play outside if we play too. I got a head start on my goal of going from "bad dad bod" to "rad dad bod." Like most kids, our boys always want to get mom and dad involved. Something always comes up and it did during this first week.
On Sunday (Day 1), Tyler and I ran 1.5 miles and played basketball for 30 minutes while little brother Chase bounced at a birthday party in the afternoon. That night, Kristen, Tyler and Chase played some street tennis for 20 minutes while I cleaned up after dinner. We also got a 15 minute walk in that day. We were killing it! The next day, the rain washed out Tyler and Chase's 60-minute soccer practices and our plans to get some exercise in. The boys still got some minutes for playtime/recess, and that was it.
Monday night, Tyler starting coming down with something. We're guessing a virus. He was out of school for the next two days with a fever, which completely re-arranged everyone's schedules, and limited his and our Fit Family Challenge time for a few days. My workout from Tuesday got pushed to Wednesday so I could stay home with Tyler.
Thursday, Tyler eased back into some outdoor playtime and tennis with Chase and everyone else's activity ramped back up. Friday night, my wife joined me as I hosted the Charlotte Wine and Food Weekend Gala, so we didn't get any time to exercise after work. Saturday, the boys had their weekly soccer games in the morning and they played in the afternoon. Kristen and I squeezed in some walking, and then we chaperoned Providence High School Prom.
On Day 8 (Sunday), Tyler and I went for a run again before going out to lunch for Mother's Day. We're training to run in the Steve Smith Foundation's Lace Up Son Family 5k taking place Memorial Day. The race will be Tyler's first 5K. About a half mile into our training, Tyler tripped and cut his knee up, which was the end of his run. We walked home and once he got cleaned up, I went out and ran a quick two miles. I also did some weights and some exercises when I got back. That night we all finished the week walking our chocolate lab Dawson who could stand to get in better shape himself.
Even with all the bumps in the road, our family finished the week with nearly 1,200 minutes! We still have some work to do on eating better and drinking more water so those are important goals in week two. I also realized after spending so much time outside, we don't put on sunscreen as often as we should. My farmer's tan isn't going away any time soon. I hope your first week of the Fit Family Challenge was full of fun and family memories.
---
WCCB News Rising Host Derek James and his family are participating in the 2016 Fit Family Challenge. Follow along with their healthy family journey in James' blog, Daddy Derek.