Fit Family Challenge Spotlight Families: Part 4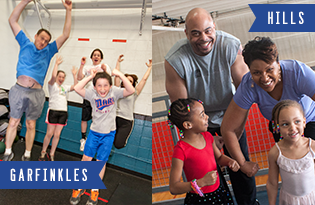 < Previous | FFC Spotlight Families: Part 3
The official Fit Family Challenge may be over, but this is only the beginning of lifelong changes for our two feature families and many others across Charlotte. We spoke with the Hill and Garfinkle families about their progress, accomplishments and frustrations. The family members and our three experts shared some advice for others who are also trying to become healthier.
All agree that some of the best parts of the Fit Family Challenge were doing activities together as a family, becoming more health-conscious and discovering that getting fit can actually be fun. Shana Hill bought some Hula hoops and jump ropes for her family. She and her girls made some fun, silly memories racing to the end of their street — and burned a lot of calories while doing so.
"We have to change our minds from thinking that exercise is a task and look at it as fun," says Hill.
Nutrition expert Cheryl Kuhta-Sutter has helped Lisa Garfinkle find and try many new, healthier recipes, and Garfinkle has cooked many more meals at home since the challenge began. Kuhta-Sutter has encouraged Hill to only prepare one dinner per evening, rather than continuing to be a "short-order cook" for her family.
Fitness expert Paul Sklar helped Hill realize that when it comes to seeing results, sometimes slow and steady wins the race. Losing weight and getting fit doesn't happen overnight, but sticking with something manageable can yield lifelong results.
For the Garfinkles, Sklar created a workout they could do at home, since they often find it difficult to fit a visit to the gym into their days. He created a circuit using a few inexpensive pieces of fitness equipment they had at home, such as resistance bands and a jump rope. Using a timer and switching the activity every 30-60 seconds makes for a quick and fun workout.
Balance expert Kim Jacobs suggested that the Carl and Shana Hill find time to have a date every week, whether it's a lunch break during the week or a walk after dinner, and that Hill bring in a helper once a week to watch their young girls while she squeezes in a little time for herself.
The Garfinkles admit that the hardest part has been staying focused and motivated, and making the time to find and prepare healthier foods, meal-plan and fit in exercise.
"The first couple of weeks are the hardest, but it doesn't take long for healthy routines to become part of your family's daily life," says Garfinkle. "There are lots of great resources on the Charlotte Parent website — recipes, fun exercise ideas. Planning is key — meal planning, healthy shopping lists, putting exercise on the calendar. Once you get the hang of it, you'll find that the effort was definitely worth it."
Here is an impressive list of each family's progress over eight weeks.
THE GARFINKLES
• are more likely to choose something active, such as a walk or bike ride, when making family plans.
• are eating more fruits, vegetables and grilled meats.
• are drinking much more water.
• learned some new exercises and tried some new activities.
• participated in a 5K as a family.
• have made salads a staple at dinner daily.
• include fruits or veggies with every meal.
• (Steve and Lisa Garfinkle) have each lost five to seven pounds.
THE HILLS …
• have fully and happily adopted a healthier diet, including more fish and whole grains.
• are eating out less often.
• are having a lot of fun with family workouts
• (Shana Hill) has lost five pounds.
• switched from bleached foods to whole grains, boosting their sense of fullness and energy levels.
• (Shana Hill) has found new strength and motivation from within.
Hill sums this year's Fit Family Challenge up perfectly: "Our journey has only just begun and we are truly excited about the future!"
Lisa Hassell is a freelance writer who lives in Indian Trail with her 4-year-old son.