Fit Family Challenge Spotlight Families: Part 3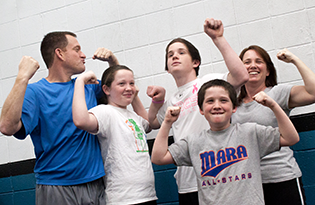 < Previous | FFC Spotlight Families: Part 2
The Fit Family Challenge is moving right along, and the two spotlight families are enthusiastic about their recently improved fitness and nutrition habits. Here's hoping you find their progress inspirational for your family.
The Hills and Garfinkles are quick to agree that they are more aware of the importance of healthy living and the benefits since beginning the Fit Family Challenge. They are paying more attention to the foods that they eat on a daily basis.
"Eating clean foods along with whole wheat and whole-grain foods are better choices for our family," says mom Shana Hill.
The Garfinkles' eating habits have also greatly improved. Fit Family Challenge nutrition expert Cheryl Kuhta-Sutter taught the children how to read nutrition labels. Although grocery shopping takes a bit longer now, the kids are very conscious of what they're putting in their bodies and are definitely trying to make better choices.
"I actually had to go to the grocery store three times last week to buy fruit. They ate everything I bought within a day or two!" says mom, Lisa Garfinkle. "[The kids] are looking for no more than 7 grams of sugar per serving and are pretty strict about it."
The Hills are adding whole wheat in their breads, pasta, pancakes, rice and some chips, and are attempting to eat fruit with each meal. "The healthier foods are a little more expensive," says Shana Hill, "but it's still not a real issue," and a little extra cost in healthier foods and gym memberships far outweighs the cost of illnesses, health problems and medications related to unhealthy living.
Fitness expert Paul Sklar taught the Hills that it isn't necessary to spend time on a treadmill or weight machines, but that results can be achieved with resistance bands and weighted balls. They've noticed that moving more doesn't really take much more time at all; devoting the time was all they needed to do.
"Our girls actually love working out with us because we now make it fun," says Shana Hill.
In addition to the health benefits, Lisa Garfinkle has found a renewed sense of bonding and family closeness since beginning the official challenge. The family trained together and participated in a 5K in May.
"I love that the whole family is working on this together. It gives us something in common that we can talk about and interact on. Usually we're off focusing on our own things."
There are, of course, challenges and setbacks. Staying fit and eating well isn't as easy as sitting on the couch or grabbing fast food at a drive-through on the way to a ballgame, work or another activity.
When talking with Fit Family Challenge balance expert Kim Jacobs, the Garfinkles were adamantly against dropping any extracurricular activities. They have, however, come up with some solutions to the problem of staying healthy while maintaining a hectic lifestyle.
One of Jacobs' suggestions: Set a timer each evening for 15-30 minutes and have each family member clean something during that time. For a family of six, a lot can get picked up and cleaned in that short period, and no one feels that he or she is doing an unfair amount.
The family is also working on make-ahead menus and foods they can take in a cooler, since they spend so much time on the ball field and running to various activities. "Planning is essential," says Lisa Garfinkle, "and finding the time and discipline to do it is a challenge." Ultimately the benefits are well worth the extra time.
Lisa Hassell is a freelance writer who lives in Indian Trail with her 4-year-old son and a menagerie of pets. She's trying to keep up the daily momentum, too!
FFC Spotlight Fams: Part 4 | Next >
5 Ways to Keep at It
1. "Remind yourself every day of your original goal and visualize how good you'll feel when you reach that goal. Forgetting goals that you set for yourself is an easy way to avoid success." – Paul Sklar
2. "Find exercise you enjoy. Join a class or a team to stay committed." – Kim Jacobs
3. "Stock your freezer with sodium-free frozen veggies and pack healthy snacks in your backpack, car or purse for easy access to power-packed nutrition." – Cheryl Kuhta-Sutter
4. "Honor your commitment to yourself and those that are counting on you to succeed." – Paul Sklar
5. "Make small changes, one step at a time, for permanent lifestyle changes." – Cheryl Kuhta-Sutter