Fit Family Challenge Spotlight Families: Part 2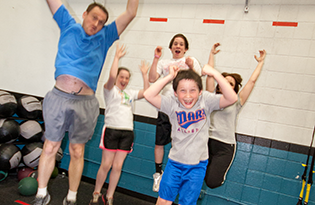 < Previous | FFC Spotlight Fams: Part 1
Last month we introduced our two families and two of our experts for the 2013 Fit Family Challenge. We've added a dietician to our panel, and everyone is excited to get started.
Shana Hill says her family and friends are really ready to begin. Having the support of friends is extremely beneficial for families to keep this kind of challenge going for the long haul.
We recently talked with our three experts — Paul Sklar, personal trainer; Kim Jacobs, balance expert; and Cheryl Kuhta-Sutter, dietitian — about how busy families can get fit … and stay fit!
Charlotte Parent: Based on what you know about the Hill and Garfinkle families so far, what advice would you give them? How do you plan to help them become healthier long-term?
Paul: It seems that both families have gotten caught up in the rigors of life, which happens quite often. Poor exercise habits lead to poor diet decisions and vice versa. Then exercise and fitness are put on the back burner.
Kim: I will educate [the Garfinkles] about various recipe-creator websites where they can put in food items that they like, and then the websites will create a specific recipe. I will also help Lisa and Steve learn how to grocery shop [so that] when they finish shopping, they will have every ingredient for the meals that will be prepared.
Cheryl: The families and I discussed how making changes in their eating plans would be a lifestyle change — not a temporary fix. Choosing one or two goals at a time and mastering those goals is the key to making positive dietary changes.
Kim: Also, since the Hills enjoy television and electronics, I would recommend that they do "Just Dance" or Zumba on Wii. This will get the entire family moving, and the children will feel like Mommy and Daddy are having playtime with them. I would also advise Shana and Carl to work out together at their local gym and place the children in the childcare program. Most gyms offer child watch, and it is usually entertaining for the children.
Charlotte Parent: How can a busy family make fitness and good nutrition a priority?
Paul: Having a busy schedule is not an excuse to be physically unfit and out of shape. Being fit is a choice that you actually have to think about. There needs to be a check-and-balance system, and sometimes even a reward system in place.
Cheryl: A busy family can take about 20-30 minutes a week to plan their meals, develop a grocery list and choose recipes to make the rest of the week less hectic. Every family member can be involved.
Kim: No matter how busy the family is, [parents] usually spend some time with their children throughout the week. When that time happens, make [sure] physical activity happens.
Paul: I took our entire family on a 4-mile excursion this past Sunday. I ran with the baby in the jogging stroller [and my wife and older kids ran or rode scooters]. We all worked together and encouraged one another. Everyone had fun and didn't even realize that they were exercising!
Kim: Busy families can also create a family fun time schedule for the week and specify which activities will happen on designated days. I guarantee that children will feel the special bond with their parents if they are doing an activity together.
Charlotte Parent: How can people keep healthy habits a family affair?
Paul: Family members have to hold each other accountable.
Cheryl: Families who eat together live healthier lives. Try to eat at least 3-4 meals together as a family a week. Involve children in the food preparation and selection of foods and they will be more apt to eat it.
Kim: Have a family meeting and get buy-in from the entire family. Discuss what your health goals are as a family. Agree on the amount of fruits and vegetables you all will eat. Discuss how often you all will do physical activity as a family.
Paul: Work together and incorporate [an] exercise program into [your] life so that it becomes second nature. Consistency, goal setting, family camaraderie and setting time aside for fitness activity are going to be key factors in [a] family's success.
Kim: Incorporate activities that require the entire family to get their bodies moving.
Paul: Families need to think of creative ways to encourage physical activity while promoting family bonding at the same time.
Kim: Make sure you and your children get proper rest, which leads to healthier behaviors, too.
Paul: Plain and simple: It works, but you have to make it work. Where there is a WANT, there is a way.
Lisa Hassell is a freelance writer who lives in Indian Trail with her 4-year-old son and a menagerie of pets.
FFC Spotlight Fams: Part 3 | Next > 
Meet the Experts
• Balance Expert: Kim Jacobs, host of the Telly Award-winning talk show "Daily Balance with Kim Jacobs" 
• Fitness Expert: Paul Sklar, founder and Personal Training Director of Prescriptive Fitness
• Nutrition Expert: Cheryl Kuhta-Sutter, registered dietitian at Presbyterian Novant Heart and Wellness

Does your family want to get healthy? 
Your family can join the Fit Family Challenge, too! Register online, log your activity, earn points and win prizes!  
[tell me more]