Fit Family Challenge: Final Reveal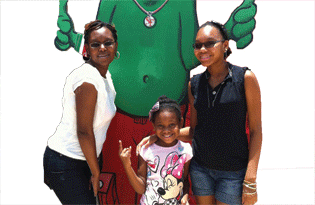 When Kelley Fluharty and Marjorie Valle signed their families up for the Fit Family Challenge last spring, they were inspired by different motivating factors, but the end goal was the same: to make their families healthier. Five months later, they've lost weight and gained confidence in the kitchen, and they've learned that health is more than simply counting calories and losing inches.
Fluharty, a single mom balancing career and family, wanted to find time for herself, focus on fitness, lose weight and keep up with her already active son Christopher. Valle sought advice on how to meet the special dietary needs of her diabetic daughter and her road warrior husband without breaking the bank or spending every second in the kitchen. With the help of our team of fitness and nutrition experts, both families got more than they bargained for.
"As parents, especially mothers, we are heavily focused on our families, and our jobs, and anyone else we feel responsible for," says Fluharty. "Sometimes that gets in the way of doing what we need to do to keep ourselves in top working order. With the Fit Family Challenge, I have definitely put myself higher on my list of priorities. If I'm not healthy and happy, I certainly can't make sure everyone else is either."
Fluharty has lost more than 20 pounds since starting the challenge and is training for races this fall. Valle says she, too, has lost inches and tightened up all over, but both women emphasize that it's the things that can't be measured that have really made an impact.
"For me, the best part has been all the family time," says Valle. "We're doing all these activities together and taste testing new foods. The girls love it."
While on vacation this summer, Valle's husband, John Davis, noticed a difference from the family's last trip together; this year he was able to go sightseeing without feeling out of breath. "That was the girls' favorite part of the trip," says Valle, "walking and sightseeing and enjoying themselves."
For Fluharty, one of the biggest highlights for her was a simple afternoon game of basketball with her son. "Christopher's favorite part was definitely getting me out on the basketball court," she says. "He'll also run my 5K with me."
Despite these successes, the experience wasn't always easy, and both families experienced setbacks.
Fluharty lost three weeks of workout time when she and Christopher moved, but she didn't let that roadblock slow her down.
"The biggest lesson I've learned through this challenge is that I'm not going to be able to give 100 percent commitment 100 percent of the time," says Fluharty. But she is firm that a healthy lifestyle really is accessible to anyone, including busy parents.
"Work is going to run late, Chris is going to need to be somewhere or will have homework that needs to be done, one of us is going to get sick, and sometimes I'm just not going to be in the mood," she says. "But I have realized that it is OK to take a day off. I don't dwell on the small failure but instead keep the big picture in mind. This has truly been liberating."
Will They Stick With it?
"We will absolutely maintain this lifestyle," says Fluharty. "I have a newfound love of fitness. I love the way I feel after I've completed a difficult workout. I love the friends I've made along the way. And I especially love the changes in my body."
Valle agrees. "Overall, we have had a great time as a family trying new things and reaching our goals for a healthier lifestyle."
The Experts
Three experts helped the Valle-Davis and Fluharty families along the way to healthier lifestyles during the Fit Family Challenge. Paul Sklar, founder and personal training director of Prescriptive Fitness motivates individuals each day. Sklar motivated the family with personalized fitness plans and helped the families integrate exercise into their daily routines.
Nutrition expert Elaine Jones is a clinical nutrition manager at Carolinas Medical Center-University. Jones met with the families to discuss specific meal plans that fit their individual lifestyles, needs and wants. Her guidance was especially valuable for the Valle-Davis family whose 12-year-old daughter, Joi, is a Type 1 diabetic.
Kim Jacobs rounded out the expert panel by offering her advice on finding balance in the hectic day-to-day family life. Jacobs is a life balance expert and hosts her own talk show.