Fit Family Challenge FAQ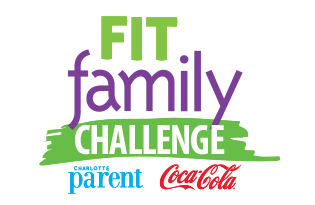 I've tried to lose weight and I just can't. There's just no time in the day to exercise. We try to eat healthy, but our schedules keep us too busy. I'm too tired. Sound familiar? We get it. Life with kids is busy, but Charlotte Parent's Fit Family Challenge is here to help you shift into high gear with fitness, food and time management tips that can help your family create a healthier lifestyle. Official kick-off for the eight-week challenge is May 1, but you can register now at myfitfamilychallenge.com.
What is the Fit Family Challenge?
The Fit Family Challenge is a free healthy lifestyle program for families running May 1-June 26. The program includes a mobile-friendly family fitness tracker, a blog loaded with healthy tips from area fitness, nutrition and wellness experts, free weekly fitness classes, plus random prize drawings, including a grand prize trip.
How does my family participate?
Register at myfitfamilychallenge.com. Starting May 1, sign into your account to log your family's healthy activities for a chance to earn points and win prizes. The more healthy activities you do, the more points you earn, the more chances you have to win. Earn extra points by attending Fit Family Challenge events and fitness classes.
What can we win?
The grand prize for the 2016 Fit Family Challenge is a family vacation to Universal Orlando® Resort.
There also are weekly prizes and a few surprise giveaways for families who keep coming back to myfitfamilychallenge.com. Winners are determined by random drawings, so everyone has a chance.