Fish Tacos With Green Chutney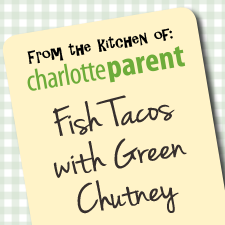 This month in the spirit of St Patty's Day – why not get your green on? No need to add green food coloring to grits or potatoes, when there are lots of delicious naturally green food with which you can work to make a fun family meal.
Here mint, cilantro, limes, arugula, watercress or spinach and avocado help to give these tasty fish tacos great flavor and a bit-o-color of the season.
Fish Tacos With Green Chutney
For the green chutney:

1 1/4 teaspoons cumin seed
3/4 cup grated coconut
1 Serrano chili, seeded and veined, then chopped
2 cups fresh mint leaves, chopped
2 cups cilantro leaves, chopped
1 (1/4-inch) slice fresh ginger root, peeled, and minced
Salt and pepper to taste
1-2 tablespoons lime juice
For the fish tacos:

1 pound grouper, cod, or halibut, skinned and cut into chunks
2 tablespoons extra virgin olive oil
1/4 cup fresh minced cilantro
Sea salt and pepper to taste
4 (8-inch) flour or eight smaller corn tortillas (even though they are not green, I really like the habanero-lime tortillas at Trader Joes for this recipe)
Baby arugula, watercress or spinach
1 avocado, sliced
Lime wedges
To make the green chutney: 
1. Toast cumin seeds by themselves — no oil needed —in a small skillet until fragrant. This will only take a minute, so pay attention.
2. Grind toasted seeds in a coffee or spice grinder. Transfer to a bowl, add remaining ingredients and toss well to combine. For a smoother mix, combine ingredients in the food processor.
For the fish tacos: 
1. Toss fish with olive oil and minced cilantro. Season with salt and pepper.
2. Broil, grill or sauté the pieces for four to six minutes.
3. Place tortillas in oven or microwave just long enough to warm and soften.
4. Spread tortillas with the green chutney; add fish and avocado, and dress with a squirt of lime juice.
5. Roll the tortilla up and around the filling to serve.
Heidi Billotto is a culinary expert who hosts cooking classes throughout the Charlotte area. Find more at heidibillottofood.com.