First-Day-of-School Chaos
On CMS' start date, class goes as smoothly as expected—that is, not at all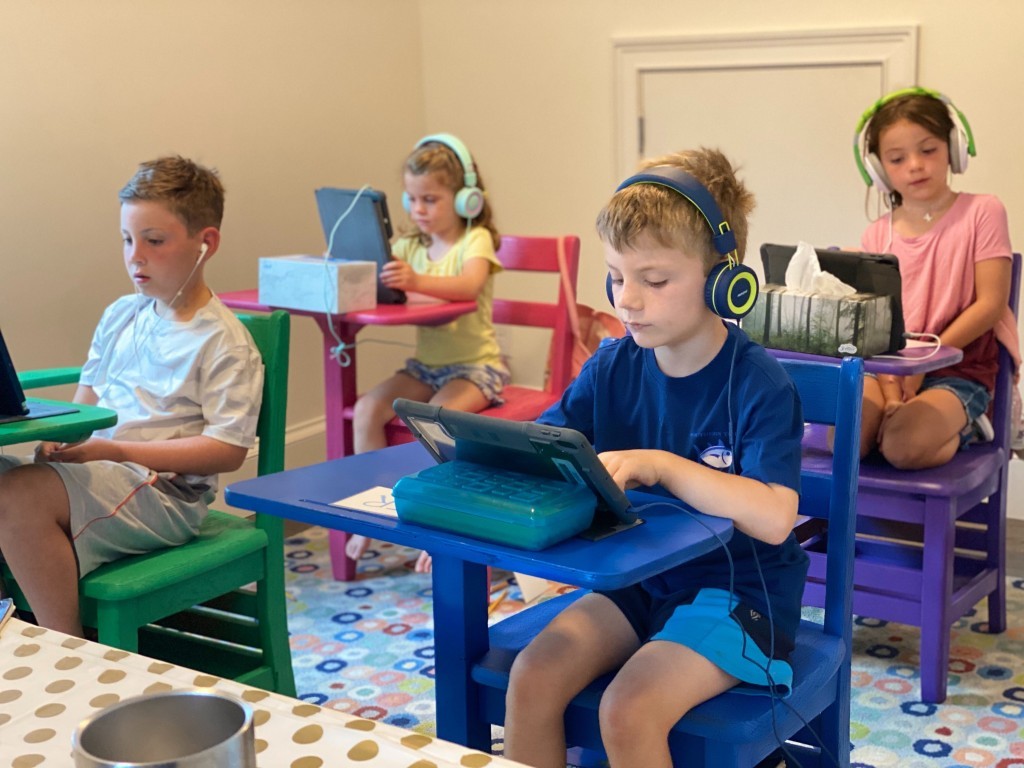 Charlotte magazine Executive Editor Andy Smith has two daughters: Elliot, 5, and Margot, 3. Charlotte Parent Editor Taylor Bowler has a son, 7-year-old Spencer, and a daughter, 5-year-old Brynn. Every child except Margot attends a Charlotte-Mecklenburg public school: Elliot attends kindergarten at Shamrock Gardens Elementary; Spencer is starting first grade and Brynn kindergarten at Selwyn Elementary. Monday was the first day of "class." As most of Charlotte knows by now, it did not go smoothly.
This is not exclusively the fault of CMS or any other public school system in North Carolina, or the country, for that matter. The opening of schools has been one of the thorniest problems that COVID-19—and the institutional and public failure to do what's necessary to contain it—has imposed on parents, and the disease has forced them and school officials into chaotic preparations for what's a chaotic time even under normal circumstances. CMS initially had planned on two weeks of in-person instruction, then remote learning, before the school board decided July 30 on remote-only instruction because of staff vacancies. That left parents and school systems with a little more than two weeks to plan accordingly.
It also forced them onto a series of hard questions, none of them with satisfying answers: Do we have enough money and other resources to form "pods" of a few families' children? Is our WiFi dependable enough? Do we have unlimited data? What if the online learning modules freeze up? (Spoiler alert: The online learning modules froze up.) For those without dependable technology, what do we do? How well can children learn in this environment? When will it be safe for our children to go back into the classroom?
Like parents everywhere, Smith and Bowler did what they could during a uniquely trying day in their lives and those of thousands of Charlotteans. Here's some of what they experienced. —Greg Lacour
Andy:
It's deadline week at Charlotte magazine—and my kindergartener's first week at school. Let's do this.
My wife works for CMS and is reporting to school this week, so my day has been a series of dispatches to her, my co-editors, and my 5-year-old's teacher.
Me to Sara: "Music class went great. She announced that she likes playing piano but doesn't actually play piano. The teacher made a joke about burping, and she laughed a lot."
Me to colleagues: "Can you all Zoom tomorrow at 4 p.m. to discuss the December issue and the Charlotteans of the Year?"
Me to teacher: "Elliot can do her letter assessment during the 1:30 spot. Will the Zoom link be coming through NCEdCloud or is that system still down?"
Taylor:
We've opted to do a pandemic pod with another family, so I have four children under age 8 in my home today. I'm still in my pajamas when our classmates arrive at 7:30 a.m., and I'm not sure if I brushed my teeth, but I'm pretty sure my kids have. We get the obligatory first-day photos.
Our tutor had a death in the family, so she can't be with us today. Luckily, her very capable daughter came to fill in, and the other mom and I can work from my house so we can be available for any inevitable first-day glitches. (We know what a privilege this is.)
By 7:45, the kids report for "whole group synchronous learning," an obnoxious way of saying asses need to be in seats for morning Zooms so teachers can take attendance. I've printed out and laminated Zoom codes and passwords for each child, and we're shocked when each one goes through. Headsets work, teachers' faces are clear on screens, and for about five minutes, we're winning at homeschool.
Then the kids have to speak up and participate, and their noise-canceling headphones aren't enough to tune out the chatter of four tandem Zoom meetings. We have to send two of them into another room. Then my daughter's Zoom meeting freezes, and we have to reboot her iPad. We get her logged back in just in time to wrap up her class meeting at 9:15,  the end of synchronous learning for the kindergartners. Her teacher says goodbye, signs off, and leaves us to 30 minutes of "asynchronous learning," which is CMS for "work independently." Any parent of a 5-year-old knows that lasts about 45 seconds. Cool.
Andy:
At 9:22 a.m., CMS social media sends out a note: NCEdCloud is having problems, and they're being addressed. The problem for us has already been happening for about 90 minutes. (Guilford County has it up and working by 8:48.)
Granted, CMS is saddled with a ton of stuff right now, but it is going to be critical to send out those notices sooner so folks don't think it's specific to them and drive themselves insane trying to troubleshoot. They apparently sent out an internal email sooner, but for better or worse, folks are going to look to social platforms first.
Taylor:
By 9:40, the whole system crashes. We get emails and robocalls that announce "statewide problems with access to the state's NC EdCloud platform," which transmits lessons that fit the state-approved curriculum. The kids can't access Canvas (the virtual learning app they're using this year), so math and literacy groups are out for the day. The kids want to know if it's lunchtime. It's not yet 10 a.m.
We piece the rest of the morning together with snacks, "get to know you" activities, connecting cubes, and puzzles. The three older kids have clusters of "specials" like music, art, and media. But what they don't tell you is that those "specials" rarely line up. So one kid's literacy group goes from 10:05 to 10:35, and another one's music special goes from 10:15 to 10:45. We eye the clock all morning, setting timers, in a constant state of start-stop-start-stop. It's nearly impossible to sync up snack times and lunch, so my kitchen is a constant snack buffet.
Between the four students in my house today, I counted a total of 24 sets of Zoom codes and passwords. We have whole groups, small groups, and special groups, and each gets its own Zoom room. At least four Zoom codes don't work. Three out of four kids miss at least one Zoom class. One teacher gave the wrong specials schedule, so the kids can't access something called MakerSpace. I still have no idea what MakerSpace is, but my first grader insists it's a blast. I make a mental note to revise the list of Zoom rooms and passwords for the tutor and tack it somewhere visible.
Andy:
As the spouse of an educator, I feel the need to balance not being an overly needy and a purely self-concerned parent while also being direct with questions and concerns. You never know if tech problems are just on your account or the entire platform. So you've got to ask—but use exclamation marks in order to not seem Internet-rude!
Margot, the 3-year-old, goes to preschool, but it won't be in session again until January. So my challenge is to provide enrichment but not depend too much on screens. Aside from other problems, too much screen time makes our kids irritable. I need a chill and occupied Margot if I'm going to get her down for that 1 p.m. nap, which is now critical for helping Elliot and catching up on magazine needs.
Taylor:
By 1:00, the kids are done with virtual learning for the day. Some days will go longer depending on what time they need to report for 20-minute specials (because no two days are alike), but the last one ends at 1:50 p.m. In-person school used to end at 2:45, and if they stayed for afterschool enrichment like my son did, they're at school until 5, sometimes 6 p.m. So this puts working parents in yet another jam.
The kids need to get outside and run, I need to get some work done, and my kitchen needs a professional cleaning crew. Do I let them watch TV so I can get 30 uninterrupted minutes at my desk? They've already spent most of the morning in front of a screen. I add two sets of kids' blue screen glasses to my Amazon prime cart.
We knew this first week would be a rolling clusterf—, and so far it is. Still no word on when Canvas will be back up and running, so I can't set up the app on my phone or do the parent tutorial I planned to do today. It's 3:30 p.m. and I've responded to exactly two emails all day, returned zero phone calls, and edited nothing. I have lunches to pack for tomorrow (because we're trying to make our daily routine look as close to in-person school as possible), laundry to put in the dryer, more school supplies to order, forms to sign, doctors' appointments to make (because the school needs proof of a physical and immunization records by September), and dinner to make.
And the part that just kills me is that I have help. I have the means and resources to form a pandemic pod, hire backup, and work from home as needed. I'll be challenged this year, sure, but my kids will be fine. Their school gave every student an iPad, no questions asked, and a grocery bag full of school supplies, tissues, and antibacterial wipes. My kids don't ever have to worry about Internet access or missing a meal. Too many others will be left behind in all of this.
Andy:
It helps throughout the rest of the day to lean into the humor of the situation. One kid in Elliot's class doesn't know how to unmute, and his older brother, who is supposed to be helping, just keeps breathing hard into the headset mic.
When asked to share something with the class, Elliot says, "I heard someone was going to bring me lunch this week. Is that still going to happen?" My kid, and others, get restless by the end of the day. They shift in their seats and ask how much longer class will to last. But in that way, remote schooling begins to feel like normal, in-person fare.
Taylor:
So, yeah. It's been a loooong day. But here's what we have going for us:
There were no tears or separation anxiety.
We got the obligatory first-day-of-school photos.
The kids got along.
They can eat peanut butter again (because no more nut-free cafeteria—huzzah!).
They like their teachers.
They dig their iPads.
They don't have to spend 45 minutes of their morning on a school bus (and I don't have to spend 45 minutes in the car picking them up at the end of the day).
None of us has coronavirus.
I have my proverbial village.
My husband comes home with wine.