Finding Your Style … After Baby
Recapturing your sense of style after baby and in turn, a sense of yourself.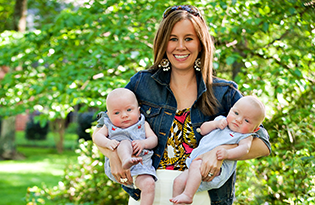 Spit-up-stained sweaters, too-snug pants, blouses with buttons bursting from their seams — any new mom can tell you about the challenges of dressing for the fourth trimester. Not only has your body experienced massive changes, but this new little person in your life makes taking a shower seem as accomplishable as scaling Mount Everest. How can a new mom possibly be expected to pull together a chic, stylish look with everything else she has going on?
It's important, however, for new moms to recapture their sense of style and in turn, a sense of themselves. Postpartum can be a time of massive hormone swings, and the thought of trying to squeeze into skinny jeans can bring even the steeliest mother to tears. But before you make yoga pants your daily uniform, check out our experts' advice for revamping your wardrobe to look (and feel) great.
---
Body Changes
Although you hear time and time again, "It takes nine months to put the weight on, you should expect nine months to take it off," it can still be difficult for new moms to accept that their body looks vastly different than it did pre-kids.
"Postpartum body changes can be hard to adjust to," says Dr. Melanie Schwartz at Womancare in Winston-Salem. "Most women are not back into their pre-pregnancy clothes for six months." Chest size can increase (especially if breastfeeding) or decrease (if not breastfeeding, or after completion), hair loss is common, and even foot size can change. Schwartz encourages women to give their new bodies a break.
"These are normal changes that most all women experience and it is not realistic to expect to return to normal overnight," she says. "Respect your body and the amazing job it has just performed."
---
The Professionals "Weigh" In
It should make all new moms out there feel better to know that even super-chic Whitley Hamlin, Charlotte stylist and writer of The Queen City Style blog, struggled with her post-baby body.
Shortly after giving birth, she headed to Target to purchase some great loungewear, inexpensive workout clothes and running shoes. After her doctor had given her the all-clear for exercise, and assuming she was well-enough rested, the pieces helped motivate her to resume a fitness routine.
The perpetually pulled-together Michele Little, president and CEO of One Chic Mama in the Triangle, also recalls how she felt about her body early on, and reminds us to take comfort in the fact that every woman deals with feelings of insecurity.
"After my first shower at home I was scared to look at my body in the mirror, but when I did, I was flooded with gratitude for the beautiful baby my body had produced," she says.
---
Go-To Pieces
Because of the changes your body has experienced, you may be shopping for new pieces for your wardrobe. Comfort is important, but one can achieve it without sacrificing style. Little suggests taking a soft approach to fashion.
"Some of my favorite go-to pieces are layers. I would layer a nylon tank under just about all my tops because it created a sleeker line and the fabric didn't highlight my extra weight," she says.
"Wearing tops that have ruching on the sides or down the middle is key in disguising a tummy, and wearing pants and skirts that have some stretch, while still helping you to look chic, is essential as your body shifts."
Hamlin also recommends items with stretch and woven materials. "A wrap dress is the most universally flattering, and it's comfortable," she says. Hamlin wore her maternity clothes for months after her son was born, and then relied on a Bella Band (an expander that covers your belly and can give your shirts extra length).
---
It's In the Details
Hamlin and Little hail accessories as life-savers for a postpartum body. "Accessories are huge, and when you take the time to wear a little bling it makes you feel more put-together and adds a shot of style," says Little. She recommends starting with a diaper bag you love. "You're going to be carrying it a lot, so why not opt for one that's chic and stylish?"
Jewelry can bring light to your face, says Little, which is especially good when you're sporting those unattractive-but-unavoidable dark under-eye circles. Highlighting a well-deserved pedicure with fun flats or sandals can do wonders.
"Accessories are such a fun way to really define your own personal style," added Hamlin. "I so try to subscribe to the whole 'less is more' thing, but what can I say, more is more!" She recommends a killer scarf and stylish sunglasses — another great way to camouflage signs of late-night feedings. "It doesn't matter who you are, or how much or little you spend here, there is nothing more chic than a gorgeous silk scarf tied around your crown and an oversized pair of sunglasses."
---
A Woman's Work is Never Done
Many new mothers will be headed back to the workforce, and dealing with daycare, nannies and logistics is enough to put them over the edge. Little and Hamlin stress that you have a lot to deal with already — it's most important to take it easy on yourself.
Start by picking clothes that you feel comfortable wearing, even if they aren't necessarily the ones you fit into pre-pregnancy. Now might be the time to ditch the high heels (at least temporarily) since balancing a baby carrier while tottering into daycare may add more stress to your morning. Many moms will also be pumping at their place of business, so keep that in mind and invest in a high-quality nursing bra. Also, Little suggests taking snaps of outfits that work together ahead of time, so you don't have to stress on harried mornings.
"Wear only what you love, because you need every little boost you can get."
Amy Salvatore Reiss is a freelance writer and mother of two who lives in Davidson. The best postpartum investment she made was a fabulous Coach diaper bag, which she still used long after the toddler stage.
---
New Mom Makeover
Sarah Hunt is a new mom to 5-month-old twins Carter and Bryant. She also has continued to wear some of her maternity clothes (her cute Sevens look like regular skinny jeans, but with a comfy maternity band), but found it tough to pair shirts with them. She's felt a bit limited in her wardrobe, so to mix things up she trades out her flats for boots, or incorporates fun jewelry. Hunt also loves maxi dresses. "They are so comfortable and because they're long, and I can freely pick up my boys or sit down on the ground with them and not worry about anything," she says.
Hunt met with Hamlin for a new-mom style makeover. She loved the patterned cover-up that doubled as a dress (great for disguising a tummy), as well as the jean jacket look Hamlin suggested, because both incorporated color into her wardrobe — an easy way for any new mom to feel stylish. Hunt also dug the fun beach bag, cute bangle and chic clutch that proved how a few great accessories can pull together a look.