Finding Time for Siblings of Children with Special Needs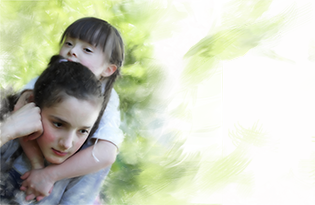 Mia has spent many hours in doctor offices in her seven years of life, but she's seldom the patient. She is the younger sibling of a child with special needs. Her older sister, Parker, 9, has Prader-Willi syndrome (PWS), the most common known genetic cause of life-threatening obesity in children. PWS typically causes low muscle tone, short stature (if not treated with growth hormone) and a chronic feeling of hunger that, coupled with a metabolism that utilizes drastically fewer calories than normal, can lead to excessive eating and obesity.
The girls' parents, Bethany and Scott Cheney, have always discussed Parker needing extra help, and at age 4, they began explaining the specifics of PWS to Mia. A book on PWS, written specifically for children, helped both daughters understand PWS behaviors.
Depending on the severity of a special need, the entire family life and schedule may revolve around the child with special needs. It is not uncommon for other children in the family to feel jealous or neglected. Red flags include acting out, irritability, frustration, withdrawal, comments about resentment or increased sibling rivalry.
Parents can help by providing education about the special need but remembering that knowledge doesn't necessarily match emotional experience. "Children can still feel jealous even when they know cognitively the reasons behind the special attention the sibling receives," says Nichole Finger, family therapist at Lake Norman Family Therapy in Cornelius. Some children may be afraid to bring up the topic, but parents should maintain open communication and initiate discussions with all children in the home about a sibling's special need, says Finger.
"As children grow and mature, their cognitive processes develop, moving from more concrete to more abstract thinking. As this occurs, the questions that children have will change and deepen and more complex issues and concerns will be addressed."
Finger encourages families to get help when needed. Resources such as individual and family therapy, school counselors, support groups and respite services are available.
The Cheneys make sure both children have experiences with peers with and without special needs. Mia participates in conferences for children with special needs and attends picnics, fundraisers and community activities.
"Many times the programs for children with special needs will also include the siblings, so those children feel special too, and it creates this real natural understanding for people of all abilities," says Bethany Cheney.
Openness and education of family, friends, teachers, classmates and other parents is vital. "The child with special needs wants to be included, and the typical sibling wants their special needs sibling to be accepted and seen for the amazing person they see,"she says.
Though challenging, carving out quality one-on-one time with each child needs to also be a priority. The Cheneys believe both of their daughters need their own activities and independent playtime with friends and special times with parents. "Mia and her dad went on a trip together to visit family while Parker and I had a week of activities that she enjoys at home. That trip was probably the best trip Mia ever had. We sensed she really needed some time to feel 'special.' Being on the lookout for those signs is important."
Holly Becker is a mom to three children and lives in Cornelius.
Read more:


2013-14 Exceptional Child Guide