Finding Mary Poppins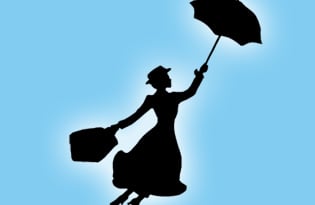 Wanted… No, required! Nanny. Firm, respectable, no nonsense. As dictated by Mr. Banks in the 1964 Walt Disney classic, Mary Poppins. But as he soon found out, his children wanted something entirely different.
"…if you want this position, have a cheery disposition, rosy cheeks, (no warts), play games, all sorts!"
Finding a nanny is serious business. After all, a nanny could be taking care of your children up to 60 hours a week. Charlotte professionals and parents agree finding the ideal candidate isn't easy, but if you trust your instincts and do your research, it's possible.
Rebecca Lewis of Charlotte interviewed 15 candidates for a nanny position after she had her first baby. Five minutes after her now-nanny walked through the door, Lewis knew she the one.
"I felt like she was someone I could trust," says Lewis. "She brought the same level of commitment and joy and excitement to her job as I try to as a parent."
Whitley Adkins Hamlin, owner of Perfect Placements agency in Charlotte, advises parents to look for a person with common sense, good decision-making skills and high moral integrity, and someone who will reinforce the value system in your home.
"There are many ways to hire a nanny, and I tell families and nannies you can find a perfect match, but you have to be cautious because you don't know what's on the other end."
Here are some tips on how to find a nanny who is a perfect fit for your family.
Define Your Perfect Nanny
Before interviewing candidates, parents should decide what kind of nanny they want and what the nanny's duties will be. Be able to answer these questions:
• Do you need a nanny full-time or part-time?
• Do you want the nanny do to light housework or drive the kids to activities?
• Will the nanny be expected to cook, clean or do laundry?
• How much child care experience do you require?
The nanny's duties will impact how much she is paid, says Jackie Peterson, placement provider for Olive You Nanny. Full-time, live-out nannies in Charlotte are paid between $400 and $700 weekly; full-time live-in nannies receive $300-$600 week; and part-time nannies average $10-$16 an hour.
Parents may want to match a caregiver with their family's activity. "Some people may say 'My kids are a little more active,' so they need someone who's a bit younger," says Chris Blettenberg, president of Charlotte Care Services. "For a baby who needs to be held a lot, a grandmother may be more appropriate."
If education is important to you, consider hiring a nanny with a college degree. If you value your children learning about other cultures, consider a nanny born in another country.
Susan Schneider, who has employed full-time nannies for eight years, says she and her husband, a former amateur Ironman, tend to hire younger women who are active, and will take their three children to the pool, the park and out on bicycles or in strollers.
"What's been most important to us is having someone who's energetic and willing to be out and about with the kids," she says. "I think each family has to be really clear about what's most important to them to find the right fit."
The search strategy
Decide whether you will look for a nanny, or use a placement or referral agency. Nanny referral agencies can cost from several hundred dollars to more than $2,500, but in return parents can interview pre-screened candidates already matched with their family. Some agencies interview families and visit their homes before selecting nanny candidates.
"It really is about providing a personal approach to such an important decision," says Peterson.
The do-it-yourself route can save hundreds of dollars in fees that nanny referral agencies charge, but parents will need to be well versed on employer tax laws, and ready to call references and do background checks.
Debbie Passarelli of Cornelius, whose children are 1 and 3, began her nanny search by posting ads in local newspapers. She got lots of phone calls from people asking for "outrageous amounts of money," she says, and who had little experience. She fared better by asking friends for recommendations. She invited one nanny candidate to meet her family, and it was an instant match.
Families should allow four to six weeks for a nanny search, says Hamlin. "I really encourage families to expect that if you want someone who has all of the (qualities you want), it's not an overnight hire," she says.
Make a good match
Pairing a family with the right nanny can be as complicated as matchmaking, says Peterson. The right nanny will have good chemistry with your family.
When interviewing nanny candidates, ask open-ended questions and talk to the nanny about her child-care philosophies and relationships with previous employer families. Ask what her typical day would be like with your children.
Passarelli said initial conversations with her nanny ranged from small talk to learning about her life history. "You get to know that person, where they grew up, what are their hobbies, work history and long-term goals. You can get an idea for what kind of person your putting in charge of your children."
If the initial interviews and reference checks go well, schedule time for your family to spend with the nanny candidate, says Brenda Perches, who has worked as a nanny in Charlotte since 2007. "Ask her to come work with you for one or two days and spend some time with her and the kids," she says. "That way you could notice her personality around the kids. You will know if this works for you or not."
Avoiding Pitfalls
One of the biggest mistakes parents make is not thoroughly researching and getting to know nanny candidates before choosing one, says Hamlin. The best nannies will have built outstanding relationships with former employer families, who should be happy to give them a great review.
Lewis realized early on that the first nanny she hired had a different parenting style than she did. Worry and frustration took over, and Lewis had a hard time focusing on her job while she was away from her kids.
"The trust element between a nanny and mostly the mom is just critical. Make sure that you hire that person that you have the best gut feeling about. They should be someone you want to sit down and have dinner with, who you'd want to be friends with outside of work."
Hamlin recommends that parents talk frankly with nanny candidates and make sure the job is appealing, as turnover can be high if nannies are offered a job closer to their home or for higher pay. Most of all, Hamlin recommends parents trust their intuition.
"If you think something's not right, it's because it's probably not right," she says. "Really rely on your gut in decision making."
Nanny types to hope for, dream of, or completely avoid.
Mary Poppins
She sings. She dances. She's cheery when the baby's screaming and the toddler is attached to her leg. She magically teaches your children to read, write, paint and speak other languages.
The A-Lister
She has a million friends, and as soon as you're out the door they're on their way over. She may or may not know what your kids are up to while she entertains her posse. And if her BFFs aren't at your house, she's probably texting them rather than watching your children.
Lazy Daisy
Who needs to interact with children when you've got a TV and video games to keep their attention? Daisy is better at navigating the DVR and setting up the Wii than providing non-electronic entertainment for your children. She may become a semi-permanent fixture on your couch.
The Manny
Don't rule out the male nanny, or "manny" as he's known in the industry. One Charlotte family was looking for a nanny who would make sure their son got attention because people fawned over their extra-cute daughter. The solution? A well-qualified manny.
Sgt. Nanny
You want discipline? Sarge will have your children making their beds with hospital corners and marching in formation in no time. She may not be much fun, but your children will be too intimidated to care.
Artsy Nanny
This nanny is summer camp, vacation Bible school and art class rolled into one. She has a fun and creative idea for every situation. If it rains, she and your kids make mud pies, and she cuts their peanut butter and jelly sandwiches into the shapes of stars and butterflies.
The Other Mom
She is your clone, someone who shares your outlook on life and raises your children as you would. In fact, some days your children may be happier to see her than you. "My children are so in love with our nannies, and we encourage that," says Susan Schneider. "That's what gives me the ability to go to work every morning."