Find a Waterfall in Western North Carolina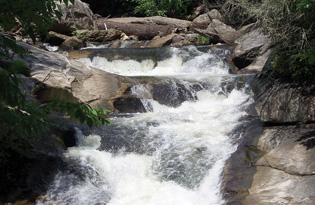 Odds are if the weather's good and my family has the time, you'll find us hiking one of the hundreds of fantastic trails in the mountains of North Carolina. Most of our hikes involve waterfalls, so as with all hikes, exercise caution. Rocks and trails can be slippery; keep an eye on the kids and wear shoes appropriate for hiking. Also check park websites for possible trail closures before heading out.
Deep Creek Trails
Great Smoky Mountains National Park
These trails start at a parking lot just inside the Great Smoky Mountains National Park, outside of Bryson City, which is little more than three hours west of Charlotte. The trails through the forest are easy to moderate and are just one of the features that make this the most youngster-friendly of the bunch. Juneywhank Falls, an 80-foot waterfall, is just ¼ mile from the parking area. If you want to see another nearby waterfall, start back at the parking lot and head a short distance up the main trailhead to Tom Branch Falls.
Between the hiking, the Great Smoky Mountain Railroad (GSMR) and the Nantahala Outdoor Center (NOC), Bryson City and the surrounding area have something to keep everyone busy. There's tubing on Deep Creek if you want something relaxing or whitewater rafting on the Nantahala. Rafting trips through NOC are open to children as young as 7 years old or 60 pounds.
Several bed-and-breakfast inns in the area advertise being child-friendly. We loved the Charleston Inn, which is close to downtown.
Adjacent to the Great Smoky Mountain Railroad Depot is Smoky Mountain Trains, a model-train museum with more than 7,000 Lionel train cars, engines and accessories. Admission is free with the purchase of a GSMR ticket, or $5 for children, $9 for adults.
Catawba Falls
Located on Catawba River Road in Old Fort (off I-40 at exit 73) about 107 miles outside of Charlotte, Catawba Falls Trail is a great hike to the picturesque lower Catawba Falls. This hike involves water crossings, so wear appropriate shoes and be prepared to go knee-deep if it has rained recently. The moderate-level hike is about 2.5 miles round-trip.
The trail leads down into Pisgah National Forest.
Only day hiking is allowed, and it's strictly carry in, carry out, so make sure you clean up after yourself. It's a good teachable-moment for your kids. So take time to explain the importance of the "leave no trace" philosophy to protect the beauty of our natural resources. On the way, you'll find a small waterfall over an old dam, but keep going and you'll find the falls.
There is no parking lot for the trail. Simply park on the left shoulder of the road before the bridge, making sure you don't block the neighbor's driveway.
Davidson's Fort, a replica Colonial-era fort, is a short drive away and open to the public on Saturdays, 10 a.m.-5 p.m., April-November. The fort is under construction, so when you visit you'll see modern builders working on the building, but can also meet volunteers in period costumes using skills of the time.
Because of the mountains, North Carolina is full of many great hikes. Most are free and many are listed by mile marker on the Blue Ridge Parkway. So grab your camera and a bottle of water and head out to enjoy some of the best North Carolina has to offer.
If You Go, You Need to Know…
Deep Creek Trails
Located two miles north of Bryson City, off of Lakeview Drive
For park maps, visit www.greatsmokies.com/hiking.asp
Great Smoky Mountain Railroad
Bryson City Depot
226 Everett St.
Bryson City, NC 28713
800-872-4681
www.gsmr.com
Catawba Falls
Located on Catawba River Road
Take I-40 West to exit 73 in Old Fort
www.foothillsconservancy.org/hikes___outings.htm
www.ncwaterfalls.com/catawba1.htm
Davidson's Fort Historic Park
Lackey Town Road
Old Fort, NC 28762
828-668-4831
http://davidsonsfort.com
Kim Justen is a freelance writer who lives in Advance with her two children.?
?