'Ferdinand' the Movie: What Parents Need to Know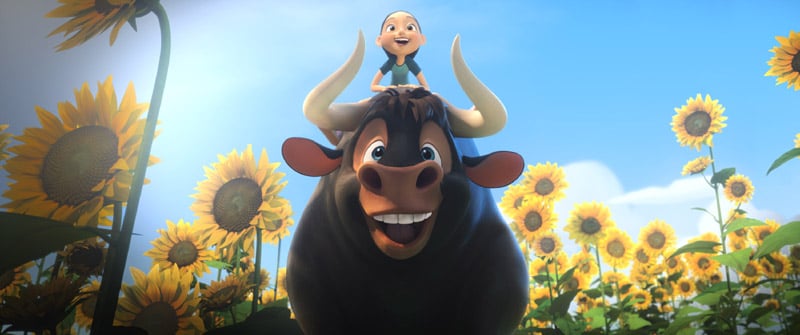 "Ferdinand" is a vibrant, colorful and energetic film about a bull who wants to be a friend rather than a fighter. It is based on the 1936 book "The Story of Ferdinand" by author Munro Leaf and illustrator Robert Lawson. The book was written more than 80 years ago, and is so popular that it outsold "Gone with the Wind." It has been translated into more than 60 languages and has never been out of print. This classic story was also adapted by Walt Disney as a short animated film and won the 1938 Academy Award for Best Short Subject Cartoon. Fast forward to the present, "Ferdinand" is a timeless story about choosing your own path in life, rather than doing what everyone else expects you to do.
The story begins with Ferdinand as a young bull (voiced by John Cena) at Casa Del Toro, a ranch in rural Spain. Ferdinand's bull friends at the ranch include "Valente" (voiced by Bobby Cannavale,) "Guapo" (voiced by Peyton Manning,) "Bones" (voiced by Anthony Anderson,) and "Angus" (voiced by David Tennant.)
Ferdinand's friends are convinced that bullfighting is their ticket to freedom. They believe that successfully competing against the matador will enable them to be released from the ranch. However, Ferdinand questions whether or not that's really true. In any case, Ferdinand doesn't want to be a fighting bull. He just wants to be at peace, smelling flowers and relaxing comfortably in the shade.
The other bulls tease Ferdinand and make him the butt of their jokes. One stormy night, Ferdinand runs away. With the ranch staff in hot pursuit, Ferdinand jumps on a train and speeds away into the night.
Ultimately, Ferdinand is taken in by a little girl named Nina, who lives on a farm with her father. Ferdinand becomes their family pet. Ferdinand sleeps in their bed, watches TV on the couch, eats food out of their hands, and roams freely on the farm. Yes, this is the life that Ferdinand has always wanted. Finally, he has a family that loves him. Ferdinand gradually transforms into an adult. Funny thing is, Ferdinand doesn't realize how big he is becoming.
Ferdinand is too big to accompany Nina to the town's flower festival. Ferdinand is left behind, but manages to sneak into town. At the flower festival, Ferdinand wanders through the crowd, looking for Nina. He is accidently stung by a bee, which causes him to scream and whelp from pain. All the commotion causes Ferdinand to be mistaken for a wild animal. The authorities capture him and return him to the Casa Del Toro.
Back at the ranch, Ferdinand is reunited with his old friends, who were never very nice to him. Everyone is grown up now, and the pressure is on to become fighting bulls. There is a slaughterhouse nearby, and they realize "either you're either a fighter, or you become meat!" With help from a wisecracking goat and three hedgehogs, Ferdinand must find a way to break free before he squares off against El Primero, the famous bullfighter who never loses.
---
Appropriateness for Children
Bullfighting and slaughterhouses are fairly serious subjects, but this is an animated film about talking animals, and bullfighting is not presented in a gory or even realistic manner. There is no violence in the film, except for one scene, in which a bull runs into an electric fence and is electrocuted. It's treated in a slapstick way, kind of like Wylie Coyote responding to the Roadrunner. There is some bullying and name-calling in the film when Ferdinand is teased by the other bulls at the ranch. Without giving too much away, there are rescue scenes at the slaughterhouse with animals barely escaping the chopping blades. The rescue scenes are fairly intense, but will probably fly over the heads of most youngsters.
I attended an advance movie screening with a little girl in kindergarten, her mom and grandmother. We were pleasantly surprised at what a delightful film this turned out to be. The movie's message of friendship, kindness and teamwork resonated with us. Towards the end of the film, the characters put aside their differences and work together to save themselves. There is a happy ending, although romanticized, and something that only happens in the movies.
There are no overtly scary villains. The "bad guys" are the workers at Casa Del Toro who chase Ferdinand when he runs away. Perhaps the Matador himself is bad because he is self-centered and wants to fight the bulls, but overall the movie doesn't have any frightening villains. Ferdinand is an appropriate film for children in elementary school and older.
Final Take
Overall, "Ferdinand" is a warm and charming take on how appearances can be deceiving. Ferdinand is a kind-hearted bull who makes many friends and changes the lives of everyone he meets. In the film's thrilling climatic scene, Ferdinand faces the matador El Primero in a packed arena, but he valiantly stays true of his peaceful nature, and inspires all those around him. The movie has a gentle message. It reminds us to show kindness to others. There is also a message of nonconformity. Ferdinand really doesn't want to be a bullfighter. All he really wants to be is a friend. He is strong and gentle at the same time. Yes, tough on the outside, but has a big heart inside. Ferdinand is a true gentle giant. This is a simple and powerful message that resonates with children, teenagers and adults.
Ferdinand is rated PG for rude humor, action and some thematic elements. It opens in theaters on Friday, Dec. 15.