FDA Approves New HPV Vaccine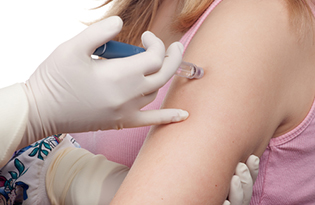 Human papillomavirus is the most common sexually transmitted disease, according to the National Cancer Institute. HPV affects nearly 79 million Americans — both male and female — and is a major cause of cervical cancer.
Currently there are two HPV vaccines on the market: Gardasil and Cervarix. The FDA recently approved Gardasil 9, which protects against five more HPV types than the previous Gardasil vaccine for a total of nine. It reportedly has the potential to prevent approximately 90 percent of cervical, vulvar, vaginal and anal cancers.
"I recommend both boys and girls get the HPV vaccine," says Dr. Scott Spies of Novant Health Matthews Children's Clinic. "The vaccine is most effective if given before you are sexually active, but it's available starting from age 9 up to age 26."
Spies said that while no states or schools require the HPV vaccine, it is standard for his practice to suggest the vaccine to every teenager who visits his office.
Gardasil 9 will be available for females ages 9 to 26 and males ages 9 to 15. It has not been determined if Gardasil 9 will replace the original Gardasil vaccine, or if those who had the older vaccine will need to be revaccinated with Gardasil 9. Consult your family doctor to learn more.