Family Health: Fruits & Veggies, Sunscreen and Autism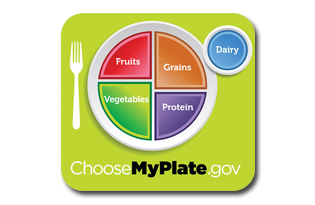 Pass the Plate: More Fruits and Veggies, Please!
Did you know the food pyramid has been replaced by the food plate? The new food groups' plate icon from the U.S. Department of Agriculture is praised by nutritionists and other health professionals as being easier to understand. The pate is divided into recommended serving sizes of the daily diet, with vegetables and fruit taking up about half the plate. Grains add another quarter to one-third, and protein (chicken, fish or meat) is the smallest component of the daily requirement, taking up less than one-quarter of the plate. The recommendation for dairy consumption is represented by a glass of milk beside the plate. For more information, visit the USDA's website about the plate at www.choosemyplate.gov.
Keep Sun-Safe on the Playground
Though summer vacation is almost over, the need to protect everyone against excessive sun exposure continues. As children head back to school, don't forget to apply sunscreen to faces, necks, arms and legs. Earlier this summer, the Food and Drug Administration (FDA) released new guidelines regarding the claims and information provided by sunscreen manufacturers. The guidelines will take effect for major sunscreen manufacturers in 2012; small manufacturers will have some additional time to phase in labeling guidelines.
The current guidelines have not been updated in more than 20 years, while the incidence of melanoma and other skin cancers linked to sun exposure have increased dramatically. The new guidelines will require SPF (sun protection formula) labeling to have proven effectiveness against UVA rays, as well as UVB, in order to claim to protect against skin cancers. Anything with an SPF of 14 or lower will not be able to claim that it may reduce skin cancer and protect against wrinkling from sun exposure. Sunscreens with an SPF of 15 or higher may claim to protect against sunburn, reduce the risk of skin cancer and early aging from sun exposure, with the additional disclaimers that the product must be used as directed, reapplied appropriately and used in combination with other skin protection measures.
Sunscreens no longer will be able to claim they are "waterproof," "sweat proof," or be described as a "sunblock;" and, water-resistant sunscreens will need to state on the label how long they will remain on the skin after contact with water. Get details at www.fda.gov.
Study Finds More Children With Autism
A six-year study in a South Korean city found 2.6 percent of all children ages 7-12 have autism, a figure that surprised experts and may influence the way the disorder's prevalence is measured around the world. The rate is more than twice the rate of the 1 percent incidence of autism that usually is reported in the developed world. The researchers – from the Yale Child Study Center in New Haven, Conn.; George Washington University in Washington, D.C.; and other institutions – sought to screen every child 7-12 in the community of almost 500,000. The study recently was published in the American Journal of Psychiatry.
In the United States, the Centers for Disease Control (CDC) and most other research groups measure the prevalence of autism by examining and verifying records of existing cases kept by health care and special education agencies. This approach inadvertently may leave out children whose parents or schools have never sought or received a diagnosis of autism. In recent years, scientists have come to view autism as a spectrum of disorders that can include profound social disconnection and serious mental and emotional conditions, as well as milder forms such as Asperger's syndrome, which is pervasive and potentially disabling, but often goes undiagnosed.
The study's lead researcher, Dr. Young-Shin Kim, a child psychiatrist and epidemiologist at the Yale Child Study Center, says the researchers believed from the beginning of the study they might find a higher prevalence than other studies because they were looking at an understudied population: children in regular schools. South Korea was chosen because autism prevalence had not been measured there, and also because its national health care system, universal education and homogeneous population make it a promising site for further studies that will look at genetic and environmental factors in autism.
Largely financed by Autism Speaks, the study raises the question of whether a similarly high prevalence would be found in the United States if all children were screened. Most cases of autism spectrum disorder in the Korean study, the researchers said, were among children in regular schools who had no record of receiving special education or mental health services. Read more at www.autismspeaks.org.
Katherine Kopp, a freelance writer and editor in Chapel Hill, has a special interest in health and medicine. She and her husband have three daughters.