Family Dining: North Harbor Cafe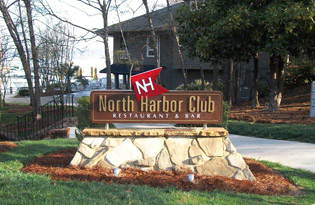 One of the benefits of living near Lake Norman is the opportunity to dine at a variety of great restaurants with a relaxing water view. Back in 2003, while house hunting in the area, our realtor introduced us to The North Harbor Club Restaurant and Bar in Davidson.
I've heard about the brunch served at the restaurant on the weekends, and was eager to try it out with my family. We arrived early for Sunday brunch at 11:30 a.m., and were one of many cars pulling into the parking lot at the same time. The kids were excited about the possibility of sitting outside near the water, but a bout of dreary, rainy weather put an end to that idea right away.
We were seated immediately in a cozy booth and took in the décor. A nautical theme is woven throughout the restaurant, starting with a large replica of a sailboat at the front door. Framed prints of sailboats dress the walls, and several large boats and canoes hang overhead in the bar and dining area, which is furnished with dark, polished wood furniture.
We noticed right away that there weren't any children's items on the brunch menu, but our server told us what entrees were available for the kids, including chicken tenders, a cheeseburger, and miniature versions of the brunch items. She brought them pineapple juice to get started. On that day, we ended up being the only family with children under the age of 16 in the restaurant. My daughter opted for vanilla-infused French toast served with warm maple syrup and powdered sugar, while my son went for a simpler dish of buttered pasta with Parmesan. Both of their dishes were $4.95, and did not include drinks.
I typically gravitate toward egg dishes for brunch, and my loaded omelet with bacon, cheddar, Monterey jack cheese and mozzarella did not disappoint. My husband chose the Eggs Benedict and declared them to be "perfectly cooked." Both egg dishes were served with biscuits and a side of breakfast potatoes. Our food arrived quickly, was very filling and reasonably priced for a family of four. We look forward to returning to the restaurant when we can take in the sight of boats docking in the marina.
The rest of the brunch menu contains seafood-themed dishes such as Cajun shrimp and grits, smoked salmon and Gruyere Panini and lobster chowder. It also has a variety of salads, sandwiches and burgers.
North Harbor Club serves lunch and dinner Monday though Friday, and offers brunch on Saturdays and Sundays from 11:30 a.m. to 2:30 p.m.
THE CHOW DOWN
The North Harbor Restaurant and Club
100-D North Harbor Place, Davidson
Dollar Deal: $4.95 and up for brunch, $10 and up for lunch and dinner
Décor/Atmosphere: Nautical and cozy; outdoor seating with patio tables and umbrellas available
Kids' Menu: Chicken tenders, cheeseburgers, pasta with butter, and other brunch items available in miniature versions starting at $4.95. Beverage not included.
Amenities: High chairs
Got Milk/Juice: Yes
Phone: 704-749-5042
Website: www.northharborclub.com