Family Dining: Mimi's Café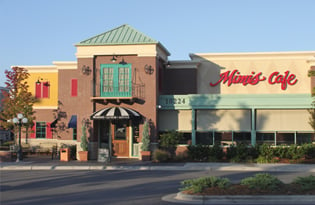 My family recently stopped in at Mimi's Café, across from Northlake Mall and were pleased with the atmosphere and extensive menu. Dim lighting and dark primary colors enhance a New Orleans-style décor, and the family restaurant offers both comfy booths and tables.
Mimi's is a large franchise that's relatively new to Charlotte. It serves breakfast (all day), and lunch and dinner with tons of food options. This is the place to go if you have a lot of people who like different things. And there's a bakery that sells five varieties of fresh-baked muffins, as well as breads and croissants.
The menu features soups, salads, sandwiches/wraps, burgers, fish, pasta and meat-and-gravy entrées. For those with a lighter appetite, Mimi's menu boasts "Just Enough Lunch/Dinner" options, as well as "Fresh and Fit" entrées that are 650 calories or less. While we considered our options, the waitress brought us a basket of warm breads — the carrot-raisin-nut bread was truly delicious.
My husband ordered the French Quarter sandwich, with turkey, bacon, avocado and Swiss cheese topped with Thousand Island dressing on grilled Parmesan sourdough. It was hearty and came with hot, crispy fries. I tried, could hardly finish, the Bleu Cheese and Walnut salad. The large bowl of baby greens, dried cranberries, walnuts, bacon, tomatoes, strawberries and bleu cheese crumbles tossed with balsamic vinaigrette, came with a delicious warm-from-the-oven muffin. Our daughter said the Golden Buttermilk Shrimp was just to her liking.
I saw a few menu items that I took note of for a satisfying late lunch with girlfriends after some mall shopping. The Bacon Mac 'n' Cheese, Scallop-and-Asparagus Ravioli and Grilled Veggie Ciabatta all sound appetizing for a cold November day.
Kids' lunch and dinner meals include a drink, entrée, side (with healthy options, such as vegetables, apple sauce and fresh fruit) and an Oreo Dirt Cup. They also serve kiddie petite dessert treats for half price.
The dessert menu ($4.99-$5.99) features bread pudding, apple cinnamon crisp, triple chocolate brownie, cinnamon Beignets and molten chocolate cake. We shared the apple crisp and weren't disappointed.
The Chow Down
Mimi's Café
10224 Perimeter Pkwy.,
CharlotteDollar Deal: $7.99-$14.99
Décor/Atmosphere: New Orleans French Quarter café
Kids' Menu: $4.99 for mini cheeseburgers and corn dogs, flat-bread pizza, grilled chicken and vegetables, spaghetti, chicken fingers and more.
Amenities: High chairs and diaper-changing station in the bathrooms
Got Milk/Juice: Yes
Phone: 704-509-5911
Website: www.mimiscafe.com