Family Dining: Greek Isles Restaurant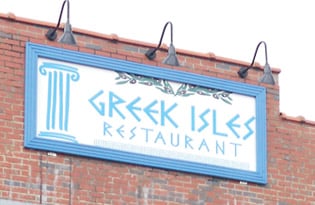 If your family didn't get enough of the culinary delights at the Yiasou Greek Festival last month, visit the nearby Greek Isles Restaurant for an equally tasty and authentic experience. Though not a restaurant oriented for children, it has many amenities that make up for it – starting with setting your appetizer on fire!
Greek Isles Restaurant in South End is open and friendly, with Aegean blue walls, paintings of picturesque island landscapes, and Greek flags and lights decorating a faux grape arbor. Lively yet quiet Greek music completes the feel.
There is no entertaining menu to keep kids busy or even smaller portion sizes to choose from, but exciting appetizers, delicious fresh bread and free dessert make a visit with younger children worthwhile. The menu contains many dishes you may have had at the Greek Festival, but many new things to try as well.
For example, saganaki is a slab of aged and sautéed mozzarella-type cheese eaten as an appetizer, but it has a definite twist to it. The server brings it to your table in a small skillet, pours brandy over it, lights it on fire, and then squeezes lemon over it to finish. Opa! In addition to our starter, baskets of freshly baked white bread with a sweet, whipped butter were brought to the table. These helped our 5-year-old forget there were no crayons and menu to color.
My daughter – who usually insists on french fries when we dine out – agreed to try a chicken and pasta dish. Named Mykonos, it featured chicken, spinach and tomatoes in a creamy sauce over linguine. She loved it, even though she only ate a quarter of it. But her leftovers just meant a good lunch for Dad the next day.
My husband and I tried familiar entrees. He had pork souvlaki – medallions of marinated pork on a pita topped with onions, tomato and tzatziki sauce. It comes with "Greek fries," which in this case are homemade seasoned potato chips. He enjoyed the tender yet lightly seasoned pork. I had the spanakopita – spinach and feta stuffed in a flaky filo crust. It tasted fresh and tangy. My side Greek salad came with the expected toppings but with a surprisingly delicious dressing.
We were there for Sunday lunch, the only day they serve complimentary loukoumades. These doughnutlike treats came with honey, cinnamon, powdered sugar and crushed walnuts – crispy on the outside, and warm and light on the inside. They were just the right touch to complete this filling and delicious meal.
THE CHOW DOWN:
Greek Isles Restaurant
200 E. Bland St.
Dollar Deal: Pita sandwiches, $8.95; Mykonos pasta, $12.95
Décor/Atmosphere: Comfortable and friendly.
Amenities: Changing station in the restroom.
Got Milk/Juice: Yes
Telephone: 704-444-9000
www.greekislesrestaurant.com
?