Family Dining: Earth Fare Café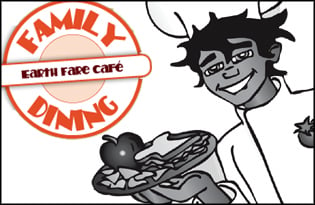 After a hectic week of cooking, doing laundry and chasing after the kids, eating out can be a blessing for tired parents. But fast food just isn't an option for health-conscious moms and dads. That's where Earth Fair Café steps in. With a Kids' Healthy Meal Menu and Kids Eat Free Thursdays, parents get a well-deserved and healthy break from the kitchen, and the children love it.
You may know Earth Fare as a grocery store, but frequent shoppers know there is an abundance of yummy prepared foods from which to choose. When you enter the store, stop at the kiosk just outside the Earth Grill to select your children's choices on the paper mark-it-yourself menu. Pick a main dish, a side, a snack and drink for a full meal. Main dishes for kids include a choice of turkey, chicken salad, turkey bologna or veggie roll-ups; grilled cheese or grilled ham and cheese sandwiches; a pizza slice; soy nuggets with ranch dressing; or a PB&J roll-up. Choose from veggies and ranch dressing, fruit kabob, organic fruit slices or raisins for the side. Kid-friendly drinks include organic milk, a mini-juice box or water.
Turn in your order to one of the friendly grill personnel, then it's your turn to order. Ready made options for adults include paninis, pizza slices, satisfying soups, a hot bar and a salad bar. Or, step up to the grill and order a burger, chicken sandwich or the special of the day, complete with fries.
Recently, I tried the delicious chicken parmigiana, with a side of pasta and broccoli from the hot bar, and my son got the grilled ham and cheese. We agreed the kids' meal portions are geared for younger children, or older children with small appetites. My 10-year-old devoured his sandwich, fruit kabob and snack, then started in on my hot meal.
— Eve White
THE CHOW DOWN
Earth Fare Café, 721 Governor Morrison St., Charlotte
Dollar Deal: $3.99 and up; free for kids on Thursdays
Décor/Atmosphere: Casual, in-store café and patio; kids activities
Kids' Menu: Roll-ups, sandwiches, pizza or soy nuggets
Amenities: High chairs
Got Milk/Juice: Yes
Phone: 704-749-5042
Website: www.earthfare.com