Family Dining: Blu Basil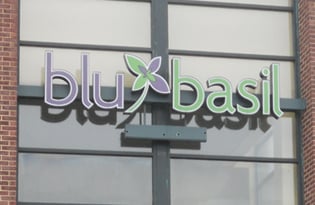 Families shopping in the Cotswold Village Shops have a great option for a nonfast-food lunch. Blu Basil offers a casual atmosphere that's welcoming to children, as well as fresh, affordable fare to keep you and your kids energized for the rest of the afternoon.
My family visited on a recent Saturday at noon. The restaurant was busy but not too full to get us in right away. Diners included a mix of families with small kids, shoppers taking a break and neighborhood residents stopping in at their regular place. My 6-year-old daughter got crayons and an activity page to color while she waited for lunch – always a welcome distraction.
The menus for kids and adults have a variety of enticing options. Kids can choose from good ol' Kraft macaroni and cheese to more grown-up pasta choices, as well as familiar favorites such as grilled cheese and chicken fingers. Sides include healthy options such as fruit, broccoli and yogurt, but also homemade potato chips. Adults have Italian-inspired wraps, paninis, salads and entrees to choose from. Sides include sweet potato fries and fruit or pasta salad.
My daughter was all set to have the kids' chicken Alfredo when I mentioned Kraft macaroni and cheese. After that, there was no convincing her to try anything else, and of course, she loved it. My husband had the pesto chicken sandwich, which had a good amount of juicy chicken and tasty pesto on a surprisingly soft ciabatta bun. I tried the turkey and bacon panini. It was a savory combination of ingredients that made for a delicious sandwich. Our sides included the homemade chips, which were not too greasy or salty, and the pesto pasta salad, which was quite good, as well.
Each of us tried a different dessert – red velvet cake, chocolate truffle cake and tiramisu – and each of us declared we had the most delicious one. They are all definitely worth trying.
Our server was friendly, attentive and ready to answer any questions. Everything we ate tasted homemade, with fresh, simple ingredients that make a satisfying meal. Contributing to the homemade feel is the kid-friendly herb garden in the back of the restaurant. On your way to the restrooms, stop by the pots to rub your fingers on and catch the scent of basil, sage, mint, thyme, rosemary and more. Many of these herbs will probably be in your meal.
THE CHOW DOWN
Blue Basil, 306 S. Sharon Amity Road
Dollar Deal: Paninis, $8.99; signature sandwiches, $9.99; kids menu, $4.99
Décor/Atmosphere: Casual
Amenities: High chairs, boosters and changing stations in the restroom
Got Milk/Juice: Milk
Phone: 704-362-3731
www.blubasil.com
> Read last month's restaurant review: Mellow Mushroom