Family Desserts for a Sweet Holiday Season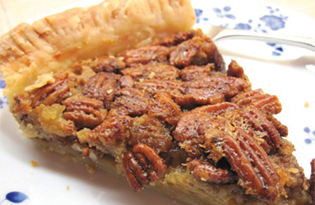 When I was a little girl and wanted to cook, it was dessert that first attracted me. This month I share three of my favorite pie or pie-like recipes – perfect for the holidays, and with instructions that are, well, easy as pie. Each one would make for a fun family culinary project, and they all could be easily prepped, almost in their entirety, by your family's junior chefs.
Seasonal favorites include anything with apples, such as apple dumplings and apple impromptu. Use local apples for the very best flavor. As apples and pears grow best in cooler climates, a trip to the North Carolina mountains in search of sweet crisp fruit and locally made cider would yield big results. Here in the Piedmont, however, the next best thing is a trip to a local market where you can likely find familiar varieties such as Granny Smith, Golden Delicious, Fuji, Winesap and Gala apples, as well as the not-so-familiar – but worth your time to taste – varieties, such as Pinklady, Goldrush and Limbertwig.
Aunt Lore's Apple Impromptu came to me from the kitchen of my aunt, Lore Edidin, and is the fruit cobbler of fall. Aunt Lore and her mom, Charlotte Bauer, taught me lots about cooking, and this is one of the first desserts I ever learned to make, which I still love to this day.
Originally the Impromptu was made with apples only, but then I found that pears add a nice balance of flavor. Ground ginger is called for in Aunt Lore's original recipe, but sometimes I substitute ground cardamom for a bit more spice with a hint of lemon, or I use minced fresh, locally and organically grown ginger from Windcrest Farms instead of the dried variety.
Apple dumplings are a fun variation of pie. My best friend in high school, Kathy Frazier (now Kathy Beeson), shared her apple dumpling recipe with me. We made these at sleepovers, where raiding the fridge for a midnight snack was more fun than getting a good night's sleep. These are fantastic served hot with a scoop of ice cream on the side.
For a slightly more sophisticated pie recipe, there is my twist on a Southern pecan pie, in which I incorporate rich cocoa for that punch of chocolate. To make it just right, you'll also need a false-bottomed French tart pan – readily available online, in the kitchen/housewares section of stores like Target or at more upscale kitchens shops.
Try one or try them all this holiday season:
> Aunt Lore's Apple Impromptu
> K.F.B.'s Apple Dumplings
> Heidi's Chocolate Pecan Pie Tart 
Heidi Billotto is a culinary expert who hosts cooking classes throughout Charlotte.