Fall Camping is the BEST!
Get inspired and get out in the great outdoors!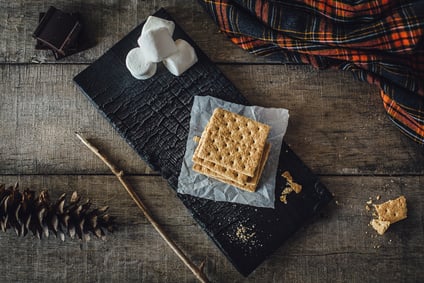 There's nothing like that autumnal nip in the air to make you want to spend more time outdoors. You might even feel ambitious and daydream about a camping expedition.
There would be rocks to climb, streams to cross, songs and s'mores to roast by the campfire. The owls would serenade you to sleep. You get more and more excited the longer you think about it.
Problem is, you don't know how to start. Should you ask a Boy Scout to come along on your first camp out and show you the ropes?
Start with a fort or home-made tent
If you've never tent-camped with your family, perhaps ease into it before investing in equipment.
It doesn't take any NEW equipment to spend a night under the stars. This WikiHow will show you how to make a tent or fort from sheets and chairs, the perfect setup for mild temperatures and clear skies. Take it for a test drive in the back yard.
Camping in a cottage or lodge is easy
Many campgrounds and parks have cottages and lodges with a wide variety of amenities, which might include your own kitchen, bath, bedrooms and dining room table. Many have gas grills and all have fire rings. Most campgrounds will keep a stock of ice and firewood, and some will have a store with camping supplies and foods.
Some campgrounds offer unique accommodations like train cabooses, teepees, yurts, yurts and wall tents for a splash of whimsy and adventure. Sometimes you can rent linens with your lodging so check in advance. Contact the campground operator to be sure what's available on site for the days you have in mind.
I usually stay in basic cabins and use my sleeping bag. I can get an air-conditioned camping cabin, sometimes with a refrigerator and cable TV, for about $50 per night—much nicer than any motel you'll find for that amount, I assure you.
You'll find campgrounds at national, state, and local parks, and on private property. Be sure to check for recent ratings and reviews by other campers before making your reservation.
Download my free guide
Download "Camping for Beginners"
for more tips. It includes:
How and where to find a great campsite or campground (even if you don't own camping gear)
What to do while camping, including over a dozen games and activities
Minimal packing list (for camping anywhere except your own backyard)