Fall Activities for Children With Special Needs
The latest 'Thrive' column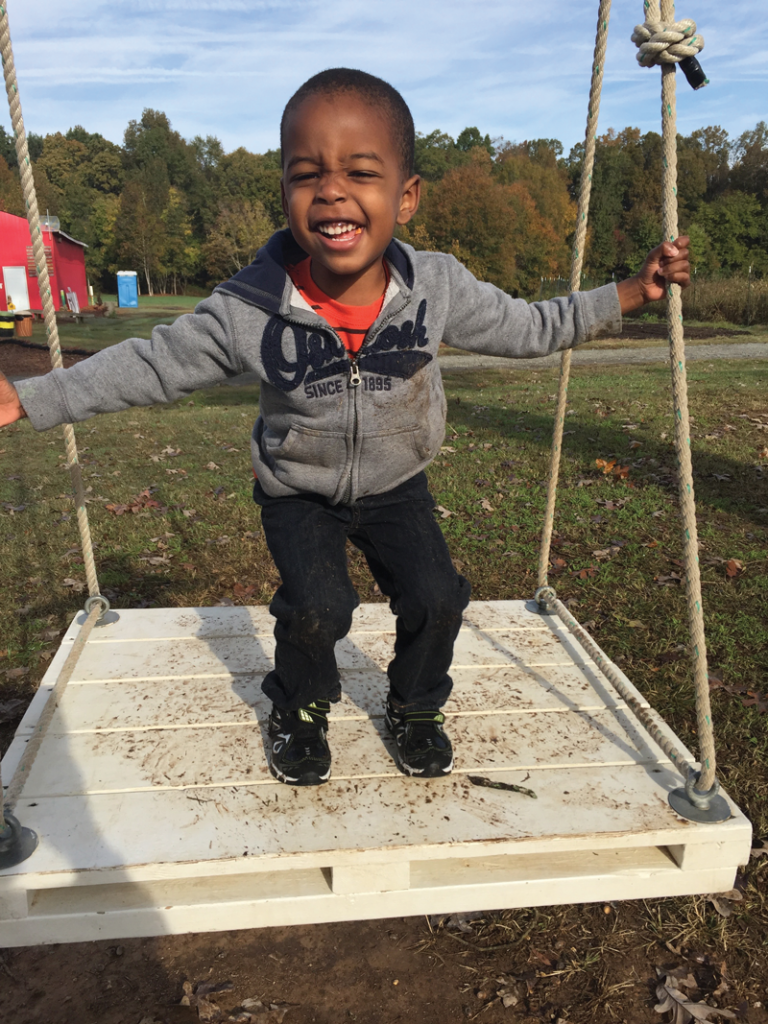 My son Jacob, who is on the autism spectrum, loves being outside. One of the hardest things, however, about changing seasons is how to accommodate outside activities without the weather getting in the way. Fall happens to be a favorite season of mine — the colors, food, and of course, beautiful weather. Fall also presents a terrific opportunity to do things outside as a family. It also is a great time to enjoy sensory exploration through activities and events. Following are some my family's favorites.
Outdoor Activities
Take a trip to a pumpkin patch. One of my favorite things to do with my kids is to go to a pumpkin patch. We love picking pumpkins to decorate, but while at the farm we enjoy the other activities as well. Most farms are filled with activities to keep all members of the family happy. There are tons of options for places to visit a pumpkin patch around Charlotte with activities, including corn mazes, hayrides and pumpkin picking, which are all great to fulfill sensory needs.
My children have enjoyed the Corn Pit at Wise Acres Farm. It's like a colossal sandbox but filled with corn, so it has all the fun and none of the mess. You can easily spend your day at the farm by planning around which activities you and your family enjoy together. Make it fun by having each family member pick something they want to do and then create an agenda. To avoid any possible issues, make the children's choice of activities first, and if time allows you can do yours. Mine is always the slushy at Wise Acres.
Play at the greenway. Anne Springs Greenway offers loads of activities that are special-needs friendly. For their annual Fall Frolic, enjoy activities, such as barnyard buddies, horse rides and a cow train. These activities offer an excellent opportunity for children to interact as well as learn about farm animals and how to take care of them.
The horse ride is Jacob's favorite. He loves horses and always looks forward to going. The horse ride tends to have a long line, so make sure you plan accordingly. Fall Frolic on the Greenway runs Saturdays and Sundays, Oct. 12 through Oct. 27 from 10 a.m. to 4 p.m. Horse rides are available Saturday from 11 a.m. to 3 p.m., and Sunday 1 to 4 p.m. ascgreenway.org.
Indoor Fun
While the weather is mostly beautiful throughout the month of October, sometimes it's not. Charlotte offers some other options that cater to special needs families. Places like the Sea Life Aquarium in Concord and McColl Family Theater gives you some indoor activities that do not depend on the weather.
Visit the aquarium. On the second Sunday of each month, Sea Life Aquarium in Concord opens from 9 to 11 a.m. for a sensory-friendly visit. Families are able to enjoy the aquarium before it is open to the general public with reduced lighting and an accessible comfort room that can be accessed at any time if needed. visitsealife.com/charlotte-concord.
See a Show. Children's Theatre of Charlotte presents a sensory-friendly performance of "Peter Pan" at the McColl Family Theater Oct. 18 at 7 p.m. The performance includes accommodations for families without sacrificing the integrity of the performance. ctcharlotte.org.
Bea Moise is a board-certified cognitive specialist, parenting coach and founder of A Child Like Mine. She and her husband have two children, one typically developing and one with autism.