Explore Your Family Tree
Ancestry projects grow in popularity as more people connect with their roots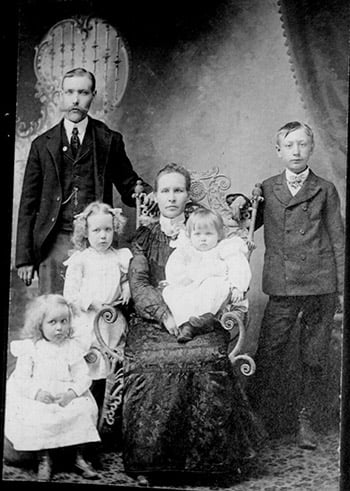 Genealogy might be a study of the past, but it continues to attract millions of enthusiasts in the present. In fact, according to the 2014 "Ancestry Global Family History Report" from ancestry.com, which compiled data from 6,000 people across the globe, one in three adults has turned to the internet to uncover information about their ancestors. Two-thirds of those surveyed say knowing more about family history is increasingly important. This Saturday, Oct. 15, starting at 10 a.m. the North Carolina Government and Heritage Library and the State Archives of North Carolina is offering a free webcast to North Carolinians about the tools they can use to track their family history.
Diane L. Richard of Raleigh, a professional genealogist at Mosaic Research and Project Management, suspects that the mobility of modern families contributes to a desire to connect with their roots, which have potentially gotten lost in the process.
"I've lived about five different places," Richard says. "My kids were born some place we don't live now. You don't have the family stories, you don't have the connections, you don't have that sense of where you came from. In a way, that was always an anchor for people … there was a security to knowing where you came from."
Moving around leads many families to want to rediscover their roots to understand more than just their branch on the family tree, says Meghan Bowden, a professional genealogist at Kinfolk Genealogy in Charlotte.
"I think for a lot of us (who research our family's history), there's just a curiosity," she says. "Where did I come from, who came before me … and placing your family within the larger picture."
Image of an Acey family immigration document courtesy of Diane L. Richard, MosaicRPM
Beginning Your Search
Setting out on your own treasure hunt to collect pieces of your family's puzzle has never been easier. Below are some tips to consider as you begin exploring.
1. Start with what you and your relatives know. "You always start with yourself," Richard says, as well as with your family and their stories. Bill Beyea, a father of two in Winston-Salem who has done extensive genealogy research, recommends writing down everything you can think of about your family's history, as well as reaching out to relatives to see what information they might have. With thousands of potential members in a family tree, Bowden says "it can really get overwhelming," but narrowing your search to a particular branch helps.
2. Find a way to make the search work for you. Beyea says the amount of time he spends researching his family comes and goes in "phases." Growing up, his family would look in phone books when they traveled on the off chance they might find someone else who shared his uncommon last name. This was one of the seeds that grew into his desire to fill out his family tree.
Image of a passport document for an Acey family member COURTESY OF DIANE L. RICHARD, MOSAICRPM
"It was always a curiosity — the name itself," Beyea says. "It's a very uncommon name, and it was most likely a name that was spelled differently at some point, but the records don't go back that far."
He has traced the name back to a group of New York brothers, but the trail ends there. Any records of the brothers' parents' names have been lost.
"There has always been this ongoing quest — will some bit of information that exists somewhere ever turn up to crack that code?" Beyea wonders.
3. Look up local genealogy societies and county records. A last name also inspired Richard to seek answers through genealogical research. She has rarely heard of anyone else who shares her maiden name, Acey. She knew her father's family was Finnish, but after his father died, his mother ceased contact with that side of the family.
Richard called a government office in the Massachusetts county where members of the Acey family had lived in the past to see if their records could help. The clerk who called her back said she hadn't had luck finding anything about the name Acey, but she had found a paper mentioning another last name in association with it.
"Long story short, Kujanpää was the name they immigrated with and within a year, they changed it to [Esi then] Acey. That just opened the door to Finland."
Photo Courtesy of Diane L. Richard, MosaicRPM
With only that nugget of information, Richard was able to trace her family back to their Finnish town's founding. All because the clerk — a stranger — took a little bit of extra time to investigate for her.
"This is a massive puzzle of the world and we all have certain little pieces," she says. "You don't know where that will come from."
The North Carolina Genealogical Society supports researchers statewide. There are also multiple local societies across the state, Richard says. The societies often have journals and newsletters that can help you think through research.
Genealogists are a very caring, sharing, giving crowd," she says. "They love helping somebody get started on their journey."
4. Search the web. A plethora of virtual resources exists to point you in the right direction. One of the most popular, ancestry.com, takes the information you have and tries to connect it with other records and family trees on the site.
Familysearch.org, a free site provided by the Church of Jesus Christ of Latter-day Saints, is another "great place to dabble" and explore records, Richard says. Other sites, such as myheritage.com also offer access to family-tree-building software and historical records. Findagrave.com can enable you to locate ancestors' headstones.
"Ultimately, it's helpful to use a combination of all of (the sites) if you can," Bowden says, with a warning that ancestry.com is "not foolproof" and can easily lead you down the wrong path if the information other members have posted isn't accurate.
5. Get the kids involved. Have children interview their grandparents, or help sort through family photos or keepsakes, perhaps making a scrapbook from their findings.
"Children really benefit from knowing those stories and feeling like they're part of a larger family or a larger story," Bowden says.
Bowden's interest in her family history bloomed from grandparents who "both just loved to tell stories." When she was working on a school ancestry project in elementary school, her grandmother shared with her that Pocahontas was one of their ancestors.
"As a kid, I was just totally fascinated," Bowden says.
Later, she studied history in school and began to research her family's past. Some of her most interesting finds? Letters exchanged between ancestors.
"Finding pictures or poems or things like that that you would never have known existed, you're like 'Yes, I've found this treasure!'"
Older children also benefit from this research. Not only does it make history personal, it helps them develop research skills, problem-solving techniques and experience evaluating the veracity of information, Richard says.
6. Call in a professional. Richard and Bowden consult with clients who want help tracing their family's history. They offer a variety of services and packages tailored to their clients' needs, and the research they do complements what you do on your own.
Laura Lacy is a freelance writer based in Chapel Hill. She fell down the ancestry.com rabbit hole while researching this story.
Proof is in the DNA
DNA testing is another way genealogy research has entered the modern age. AncestryDNA and 23andMe both offer tests that can indicate where your ancestors originated from, as well as potentially connect you to living relatives who have also taken the test. Both companies allow you to submit saliva samples from home via a $99 kit.