Explore the Wonder of Biltmore House This Summer with Kids
Admission for kids is free through Labor Day.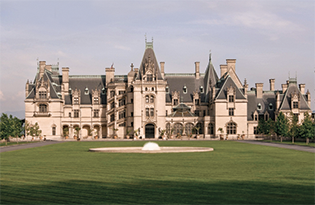 Asheville's Biltmore House, an architectural masterpiece that is America's largest home, will impress all ages with its 250 rooms, including 34 family and guest bedrooms, 43 bathrooms, 65 fireplaces, three kitchens, a 70,000-gallon indoor swimming pool, and an indoor bowling alley. This summer is the perfect time for families to visit the castle-like home, because admission for kids ages 16 and younger is free with the purchase of an adult admission through Labor Day.
House Tours
You'll need at least two hours for a self-guided tour of the home that explores three floors and the mansion's basement. For $10, you can opt for a kids' audio guide, which is narrated by Cedric, the Vanderbilts' Saint Bernard. Cedric shares stories and will guide young guests through the house with a printable treasure hunt that will engage them with interesting trivia about the home. Kids will be amazed at the impressive library, grand staircase, gymnasium, Halloween room and, of course, the swimming pool and bowling alley.
Gardens
Cedric's treasure hunt also continues outside. After touring the home, visitors of all ages can explore Biltmore's beautiful gardens which include Italian, shrub, walled, rose, spring and azalea. It's a gardener's paradise. The rose garden contains more than 1,400 varieties, so there are plenty of photo opportunities among the immaculately manicured lawns and trails.
Shops and Food
After so much walking, you'll be ready for nourishment. There are a variety of restaurants from quick snacks to fine-dining options. Near Biltmore House, kid-friendly lunch options include The Courtyard Market for gourmet hot dogs; The Bake Shop for sandwiches and pastries; and Stable Caféf for grilled burgers or Carolina barbecue. Kids will also love dessert from The Ice Cream Parlor. The Conservatory Café, on the back patio of the Conservatory, serves light snacks.
Restaurants in Antler Hill Village include Bistro, serving seasonal farm-to-table food; Cedric's Tavern for pub fare; The Smokehouse for pulled pork and chicken barbecue platters; and The Creamery for sweet treats.
Other nearby dining options include Deerpark Restaurant; Library Lounge, which also serves afternoon tea (reservations recommended); and The Biltmore Estate Dining Room (reservations recommended) at the Inn on Biltmore Estate.
Make sure you allow time to browse the unique gift shops as well including Toymaker's, a specialty store offering old-fashioned toys and games.
Antler Hill Village
More family-friendly fun awaits at Antler Hill Village, which encompasses a farm and the winery. In the farm area, kids can enjoy turn-of-the-century games, farmyard animals, a sand play area, a maze and a playground.
If you opt for wine tasting, kids will be offered grape juice, and the wine tour is short – about 20 minutes, so you don't have to worry if your kids have short attention spans.
Visitors can enjoy Grape Stomp at the Winery, included with admission, on Saturdays and Sundays from 2-5 p.m. through Sept. 27. Kids will also receive a stomp souvenir to commemorate their visit.
Outdoor Adventure Center
The 8,000-acre Biltmore estate offers outdoor fun for all ages with biking, carriage rides, fishing, hiking, horseback riding and more. Advance reservations are required for some activities such as trail rides, but you can visit the Outdoor Adventure Center at Antler Hill Village to learn more about the details associated with same-day activities, such as bike rentals.
Biltmore House is at One Lodge St. in Asheville. A daytime admission ticket is $60 for ages 17 and older, and ages 16 and younger are free until Labor Day. Your admission ticket includes a self-guided tour of the house and gardens, Antler Hill Village, The Vanderbilts at Home and Abroad exhibition, a winery tour, and a wine tasting. Learn more at biltmore.com or by calling 800-411-3812.
---
Myra Wright is the publisher and editor of Piedmont Parent, a sister publication of Carolina Parent and Charlotte Parent. She enjoys exploring North Carolina with her husband and three kids.