Explore the Virginia Aquarium & Marine and Science Center
Discover hands-on exhibits, marine life such as sharks and stingrays, a 3D theater, a zip line park, and more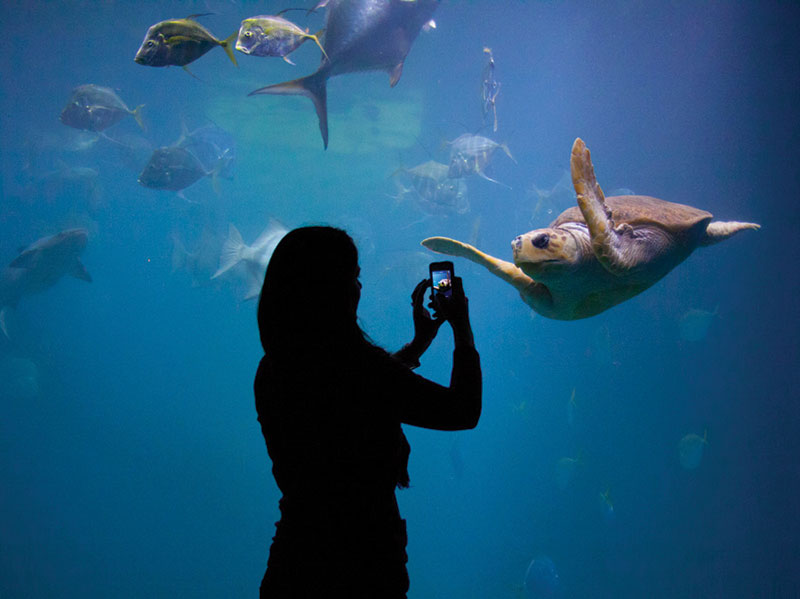 With hundreds of hands-on exhibits, marine life such as sharks and stingrays, a 3D theater, and a zip line park, the Virginia Aquarium & Marine and Science Center is a must-visit attraction if you are vacationing in Virginia Beach this summer. I recently explored the aquarium with my 12-year-old daughter and 7-year-old son, and we had a fun-filled afternoon learning about aquatic life native to Virginia.
National Geographic 3D Theater
Our first stop was the National Geographic 3D Theater, where we enjoyed "National Parks Adventure 3D," an inspiring 40-minute documentary narrated by Robert Redford. The film explores our country's most beautiful sites and history of the National Park Service. Additional films include "Humpback Whales," "Mysteries of the Unseen World," "Galapagos" and more. The theater also shows longer family-friendly feature films. See the aquarium website for a complete schedule and fees.
Animals
As we made our way through the aquarium's two buildings, we enjoyed seeing seals, crabs, sharks and my son's favorite, the North American river otters. Another highlight of our tour was the Chesapeake Bay Touch Pool, where inquisitive kids can learn and touch a variety of crabs, whelk, feather blennies and other creatures. In the Chesapeake Light Tower Aquarium, visitors will see the impressive loggerhead, green and Kemp's ridley sea turtles, as well as an assortment of fish found off of the Virginia coast.
More than 300 species are represented in the aquarium, from the rare tomistoma crocodile to Komodo dragons and sand tiger sharks.
Home Sweet Home
My 7-year-old could have spent hours playing with the interactive activities of the "Smokey Bear & Woodsy Owl: Home Sweet Home" exhibit, which will remain at the aquarium through Sept. 18. Little ones learn how people and their daily activities impact animals in the forest through fun stations such as a pretend house, bridge, stream, ranger's station, lookout tower and more. The exhibit, which encourages families to spend time outdoors, was created by the Betty Brinn Children's Museum in collaboration with the U.S. Forest Service.
Sea Adventures
For an additional fee and the chance to see dolphins, whales and other marine life in their natural habitat, take a boat ride, which departs from the Virginia Aquarium dock. Trained volunteers answer questions about marine life and provide hands-on learning. Fees and times vary according to the length of the trip and type of boat excursion. See virginiaaquarium.com for details.
The Adventure Park
If your family is looking for a bit of excitement, take an aerial escapade through Adventure Park, which is conveniently located in between the aquarium's two buildings. Ages 5 and older (beginners and experts) can enjoy zip lines, aerial trails, bridges and unique challenges in the trees. My daughter is scared of heights, so we opted not to participate, but we saw several families enjoying the aerial fun of the treetops.
You'll need at least two or three hours to explore both buildings of the aquarium and, of course, another hour or two for Adventure Park or a Sea Adventures boat ride. The Aquarium Café is open from 11 a.m. to 3 p.m. and serves a variety of sandwiches, salads and entrees.
Myra Wright is the publisher/editor of Piedmont Parent.
---
If You Go
Virginia Aquarium & Marine and Science Center
717 General Booth Blvd.
Virginia Beach, Virginia 23451
757-385-FISH (3474)
Hours: 9 a.m.-5 p.m.
Admission: $15-$22
Adventure Park at Virginia Aquarium
801 General Booth Boulevard
Virginia Beach, Virginia 23451
Hours: Seasonal. See website.
Admission: Three-hour tickets are free for ages 5 and 6 with a paying adult. Ages 7-11, $43; ages 12 and older, $51.