Expert Tips for Photographing Babies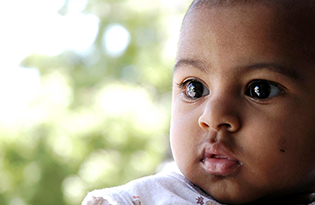 Nicole Rogers, a family and baby photographer, and mother, offers these tips for capturing baby's biggest milestone moments.
Begin before baby arrives.
"A baby bump is so beautiful and a wonderful and exciting time for first-time parents," Rogers says, adding that maternity sessions are ideal during the third trimester between 29-35 weeks.
Mark the important milestones.
Rogers recommends having your newborn photographed within his or her first 10 days. "They change so much each and every day," she says, "so it's important to capture their first days of life." From there, Rogers advises photographing baby when she sits up on her own for the first time, when she begins crawling and again at age 1.
Get on baby's level.
Keep in mind the age and attention span of your photo subject. "Talk about things that interest them," Rogers says. "Make them feel comfortable and allow them to be themselves, play and imagine."
Think about scale.
Photographing your baby in the same outfit or on the same piece of furniture over a period of time gives a clear visual for growth. "I became a mom this year, and one of the first images I have of (my son) is of him laying on this chair," says Rogers. "He looked so tiny. He will be 10 months tomorrow, and I plan on having him photographed on that same chair to show scale – and how much my chunky monkey has changed."
Read more:
> Beyond the Baby Book: Fun ways to document your baby's first year