Exercising With Kids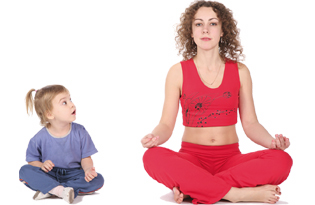 "I'm tired." "I don't have time." "I'm too busy."
I don't need yet another excuse for not working out (I've come up with enough on my own!), but fitting in exercise with kids at home provides a legitimate excuse. "I can't work out, because I don't have anyone to watch my kids while I exercise."
I used that excuse until I discovered ways to incorporate my kids into my exercise routine. Parents often feel guilty for taking time for themselves, but exercise is not a guilty pleasure. It not only offers a multitude of health benefits for adults, but it also is beneficial to children. Studies show kids who exercise regularly have stronger bones, a lower risk of developing type 2 diabetes, improved executive function – the aspect of intelligence that helps us pay attention, plan and resist distractions – and are less likely to be overweight.
According to the American Academy of Child and Adolescent Psychiatry, between 16 and 33 percent of children and adolescents are obese. Studies show a child who is obese between the ages of 10 and 13 has an 80 percent chance of becoming an obese adult.
"The key to preventing childhood obesity is to encourage kids to exercise and make it fun for them," says Stacey Vanderwel, a Charlotte-based registered dietitian and certified pediatric specialist. "Parents teach kids at a young age what they will repeat for a lifetime. Whether that is watching four hours of television a night or going for a bike ride after dinner, kids learn to either be active or inactive by watching their parents."
She adds, "The most important way to get kids off the couch is for parents to emulate a healthy lifestyle and set a good example. If parents make exercise seem like a chore or something to dread, children will dread it, too. But if parents treat exercise like a reward and a way to relieve stress and relax, kids will learn to appreciate exercise for what it does for their bodies and minds."
Here are ways to incorporate kids of any age into exercise both parents and children will enjoy.
Ages 0-2
Newborns may be hard work, but they actually are the easiest age group to incorporate into a workout. Exercising with Baby not only benefits Mom, but is good for the infant, too, because it helps improve coordination and provides a time to connect and have fun.
"New moms can begin to incorporate exercise back into their routine six weeks post-partum, as long as they have received the clearance from their doctor," says Kathryn Reaves, exercise physiologist for Carolinas Medical Center. "The goal is to build up to 30 minutes of exercise five days a week, but the good news is that three 10-minute segments a day offer the same cardiovascular benefit as one 30-minute session." This is great news for busy moms, who find it challenging to find half-hour blocks of time to exercise.
A great way to build up abdominal muscles weakened from pregnancy is to do crunches while your baby lies on your chest. If a baby can hold his or her head up, the mom can do a V-Up by holding the baby in both hands while lying down with her legs and arms straight. In one movement, you lift the baby up toward your legs as if you're trying to touch your toes. Then, lower your body to the starting position. This is a fun game for your baby and a great abdominal workout for you.
Babies also are the perfect weight for holding while doing lunges, squats and plies. Strap your baby into a secure baby carrier or hug firmly, but gently, and enjoy staying close with your little one while burning tons of calories.
Little ones easily can be strapped into a jogging stroller for an invigorating run or walk around the neighborhood. It's great for babies and parents, because it gets the little ones get some fresh air and parents get a great workout.
Give tummy time a new meaning by doing planks, which strengthen core muscles, including the abdominals, back and hips, making it a good exercise for new moms. When a woman is pregnant, the abdominal muscles get stretched out and stop working as well as they should. After having a baby, a new mom needs to focus on retraining core muscles to work again.
To do a plank, lay your baby on his or her tummy on a blanket on the floor. Facing your baby, place your forearms on the blanket with your shoulders aligned directly over your elbows. Form a bridge on your toes and forearms, as if you are going to do a pushup. Tighten your abdominal muscles, maintain a flat back and hold for 30-60 seconds.
This exercise helps Baby to build neck muscles, while Mom strengthens her core. Often a baby gets cranky during tummy time, because he or she can't see a face, but with Mom at eye level, a baby feels less isolated.
Ages 3-5
I found this age to be the most challenging when it came to maintaining my fitness routine. My son was too big to strap into the jogging stroller and too small to ride a bike on his own, and he had dropped his afternoon nap, so there was no downtime to work out. I had to get creative and rethink my definition of exercise. I pulled out the hula hoops, soccer balls, jump ropes and football cones to set up a fitness playground in the backyard.
At this age, kids' attention span is short, so having a variety of fitness activities works best. Set up challenges at each station, and see who can hula hoop the longest, who can do the most push-ups or jumping jacks and who can run in between the cones on the obstacle course the fastest. This also works well for entertaining a group of kids on a playdate. Feel like a kid again by breaking out the old jump rope songs, playing a game of Red Light, Green Light or Duck, Duck Goose! This is a great way to teach kids (and remind yourself) that exercise can be fun.
Ages 6-10
While a 6-year-old may be too big for a jogging stroller, he can participate in a supervised work out. My family started a game night this summer, and it was going really well for the first several weeks, until we all got tired of Connect 4, Battleship and playing the Wii.
One night we decided to do something different and have family fitness night instead. We all strapped on our helmets and hopped on our bikes for a trip around the neighborhood and the local park. At first my suggestion was met with myriad complaints, but after our ride my son asked, "Can we do this every night?"
Biking with the kids not only got us all active, but it was a great opportunity to teach safety rules, show the kids around the neighborhood and have fun after a long day of work and school.
Ages 11 and up
Children may be old enough to join their parents on runs and keep up the pace. Girls on the Run Charlotte is a great organization promoting healthy living and self-esteem to preteen girls. By getting involved in Girls on the Run, adults can be a part of encouraging fitness for their child, as well as themselves.
Let Me Run is a nonprofit program aimed at strengthening boys in body and spirit. Running and group activities equip them with tools to lead a balanced and fulfilling life – emotionally, physically, mentally, socially and spiritually.
Families can sign up for local 5Ks or Family Fun Run events. This allows parents and children to set a goal, practice with training and accomplish completing a race together. These activities also give children and parents a sense of accomplishment and teaches children to practice to achieve a goal.
Exercising with children can be fun and beneficial for everyone involved. It will not only improve a child's health, but it will create memories to share for years to come.
Stacy Cacciatore is the mother of two children, ages 4 and 8, and a freelance writer specializing in health, fitness and parenting. Visit her blog, 150 of the Healthiest Foods on Earth Challenge, at www.stacycacciatore.com.