Excursion: Western North Carolina Nature Center
This 42-acre nature center is home to almost 100 animal species from around the globe, including one of the largest collections of Southern Appalachian animals.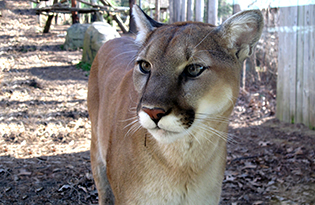 I've got a fascination with goats. I've always wanted to see what a Nigerian Dwarf Goat looks like in the flesh (or fur?). And now, I have the opportunity to see one at the Western North Carolina Nature Center.
Just a two-hour drive from uptown Charlotte, the 42-acre WNC Nature Center is home to the Nigerian Dwarf Goat and almost 100 other animal species from around the globe, including one of the largest collections of Southern Appalachian animals. Visitors have the opportunity to see and learn about the animals, including a bobcat, a Cotswold sheep, a Sicilian donkey, or maybe even a salamander and screech owl, through exhibits and presentations.
One of the most interesting exhibits is the Red Wolf Run. In 1980, the red wolf was declared officially extinct. Since then, WNC Nature Center has been a crucial partner in this animal's survival and is one of only 46 wolf-breeding sites. Each fall, a special program is held for guests to experience the haunting howls of the wolves at the center. The presentation is lead by a conservationist who shares information about red and gray wolves, their habitats, environments and pack-preferences. During the presentation, guests are taught to howl like the wolves, and later are put to the test for a call-and-response to see if the wolves howl back.
Otter Falls, another popular exhibit, gives an inside look at how North American river otters adapt to existing surroundings. Clear tank walls let guests watch the otters underwater. Black Bear Ridge features American black bears, hawks, owls and deer; and the indoor exhibit Appalachian Station features a variety of snakes and amphibians, as well as small mammals. There are also slides and a small playground integrated into the landscape when the kids need a break from looking at the animals.
Year after year, the nature center hosts more than 100,000 curious visitors. To see all the exhibits and what the center offers, plan on an hour-and-a-half. If you're planning for an all-day affair, pack a lunch and enjoy a meal at one of the picnic tables scattered throughout the nature center. Soft drinks and snacks can be purchased at on-site vending machines. The WNC Nature Center is open seven days a week from 10 a.m. to 5 p.m. Admission is $8 for adults, $4 for ages 3-15, and free for children 2 and younger. For more information about the center and animals that live there, go to wncnaturecenter.com.