Exceptional Summer Fun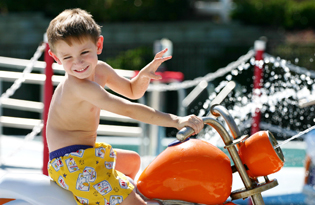 Mention summer camp, and for many adults it may conjure up images of water skiing, learning to make macramé crafts, roasting marshmallows or even feeling a little homesick. But for parents of children with special needs, summer camp may seem like an unattainable fantasy.
Whether your child requires wheelchair-accessible facilities, a special-diet medical staff or counselors who understand the full autism spectrum, camps across North Carolina offer a wide range of options, from day camps to overnight programs, camps that include siblings, and others that are free.
Finding a Camp That Fits
The key is starting the search and registration process early. Make connections with other parents of children with special needs who may have tips or have vetted specific camps already. If your child has a special affinity for animals or theater or the outdoors, following his or her individual interests is the best way to begin a search.
If you look into a standard summer camp, ask plenty of questions about the facilities and medical staff to see if a mainstream program offers the components your child needs. Many local parks and recreation programs include options for children with certain disabilities, and some YMCAs welcome kids with special needs in summer day camps.
Building Confidence
If you are open to the overnight option and a short drive, camps in N.C. roll out the red carpet for kids who need a little extra attention. Holly Bolton of Davidson never imagined her children going to a sleep-away camp. Eleanor, 9, and Jack, 7, have spinal muscular atrophy and use power wheelchairs to get around. Bolton didn't think any camp would offer the proper facilities, but a friend and camp volunteer told the Boltons about Victory Junction.
Victory Junction, located in Randleman, caters to special needs of all types, from craniofacial anomalies to hemophilia, and from cancer to spina bifida. There is no cost to families whose children attend, thanks to sponsor support.
"We went to a family weekend … and had the best time," says Bolton. "The camp is fully accessible; the wheelchairs can go up in a treehouse, and (the kids) can play putt-putt, archery and bowling. When my husband and I talk about it, we agree that it was a life-changing experience."
Bonding with others and gaining confidence were the biggest takeaways from Eleanor and Jack's week at camp, says Bolton. "In the night hours in the cabins, while they're unwinding for the day, they have discussions with other kids about their challenges," she says. "I think it is definitely confidence-building, and it gives them a chance to be around other people to prepare them for later in life."
Camp Carefree in Stokesdale is also a free, one-week overnight camp for children with special needs. Camp Carefree encourages campers with similar needs to attend at the same time. It also has a designated time for siblings without disabilities. From Neuro Week to Cancer Week, and sessions for children with sickle-cell anemia and muscular dystrophy, the camp puts a focus on what the kids can do rather than their illnesses or disabilities.
"We call it the 'You Can Do It Camp,'" says Anne Jones, founder and executive director. "It is good for them to see that they can still do things. We have never had a bad camp; this is such a joyful place to be."
Counselors at many camps that serve special-needs children stress that parents should not rule out physical activities, as overcoming physical challenges may help broaden horizons and make children realize they can tackle a range of skills in the future.
Although it doesn't offer a weeklong or overnight option, the Wrightsville Beach Surf Camp has accommodations for children with special needs and their families who want to learn to surf. Operations manager Chelsea Thornhill says the participants gain confidence and have fun. Children with any disability, ranging from those with autism to paraplegics, are welcome at surf lessons. A two-week notice enables the camp to provide proper staffing for each family.
"If your disability prohibits you from standing, you can still ride a wave on your stomach," says Thornhill. "We want to make sure if you need two or three instructors to help out, we have them ready. We hope to show people that they can do something completely new and different."
Specialized Camp Care
Some camp directors aim to fill a need that isn't covered by other camps, special needs or otherwise. Camp Royall in Pittsboro offers services throughout the year to people with autism and their families. The camp's summer program is a popular overnight option for a wide range of children on the autism spectrum.
Charlotte-area Camp Holiday fills a gap, too. Camp director Marcia Stern says it puts emphasis on an often-underserved population: children with Down syndrome. Kids ages 5 to 16 who attend the day camp learn about yoga, martial arts, music, nature, science and computers. She says the program has tripled in the last three years because children with Down syndrome are often excluded from other camps. A specialized staff is often more passionate about the campers, and a camp where students have similar needs is a good choice for parents, says Stern.
"I want these children to be given the same opportunities as everyone else," she says. Older children can take part in the Counselors in Training program, which offers leadership and team-building training.
Using counselors as role models is important to Justin Thomas, camp coordinator and director of the American Diabetes Association Camp Carolina Trails in King. The overnight camp, which has a staff of 35 counselors, is for students in rising grades 3 to 11 who have diabetes. "Thirty-three of (the counselors) have diabetes. (The counselors) are great examples of how these kids can be happy, healthy, successful; go to college, get married and have a great career," says Thomas. Camp Carolina Trails also offers a medical staff-to-camper ratio of 1-to-10, as well as a medical member in each cabin every night, which can go a long way to assure concerned parents that their child is in good care.
Questions to Ask Before Signing Up
• What is the staff-to-child ratio?
• Are the teachers trained to work with special needs children?
• What is the state of the facilities? Are they clean and accessible to my child, and do they meet his needs?
• What activities will they be doing? How will they help my child achieve his goals?
• Does the camp provide any transportation?
• Can I apply for scholarships if the camp is not free?
See our Special Needs directory to find more camps for children with special needs.
Anne Woodman is a Morrisville-based writer and mother of two.