Exceptional Spirit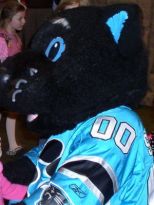 Version:1.0 StartHTML:0000000192 EndHTML:0000003618 StartFragment:0000002381 EndFragment:0000003582 SourceURL:file://localhost/Users/carriearnold/Downloads/EC-ExceptionalSprit-FINAL.doc
Kids of all ages love watching Carolina Panthers football, meeting Sir Purr and watching the Top Cats cheer on the team. Thanks to the Challenger Flag Football League, children with special needs have a chance to play flag football with Panthers players or cheer on the spirit squad with Sir Purr on the Panthers practice fields. The eight-week program, sponsored by Carolina Panthers Charities, begins in September and is offered at no cost.
"The Challenger League provides a safe, structured team environment that gives children and young adults with special needs the opportunity to experience the game of flag football," says Riley Fields, Panthers director of community relations. "It is remarkable each year to see the increases in physical mobility, confidence levels and social skills by the players and spirit squad members."
For more information and to register for the Challenger League, call the Mecklenburg County Park & Recreation Therapeutic Recreation Division at 704-432-0237 or Pete Vacho in the Carolina Panthers community relations department at 704-358-7000.