Escape City Life at Clear Creek Ranch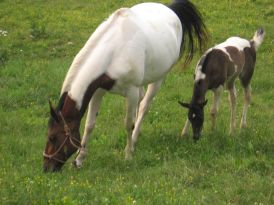 If you're looking for a vacation that brings families, horses and good old-fashioned fun together, look no further than Clear Creek Ranch, tucked away in a peaceful green valley at about 3,000 feet in the Blue Ridge Mountains surrounded by the Pisgah National Forest. Just two hours from Charlotte, Clear Creek Ranch is an easy escape from the stress of city life.
As guests of owners Rex and Aileen Frederick, my son and I were welcomed with an ice-cold glass of lemonade and warm, but casual hospitality. From the minute we arrived, we were treated like part of the family. While the rocking chairs on the front porch of the main lodge beckoned us to sit and relax a bit, there are so many activities — from horseback riding and swimming to line dancing — we didn't feel like sitting still for long.
After the friendly staff took us to our cozy cabin overlooking a babbling creek, we dropped our bags to begin our adventures. My son, Crawford, was eager to go fishing at the pond, and staff advised us cane pools and corn (yes, corn!) are all that is needed to hook one. They were right! Within 30 minutes, he reeled in his very first fish — a hefty spotted trout. We were so shocked that we didn't quite know what to do. Luckily, a helpful ranch-hand was passing by and removed the hook for us. We proudly took our catch up to the kitchen to eat later.
Days at the ranch begin at 8 a.m. with a hot breakfast. The kids take turns ringing the dinner bell at each meal. Meals are served family style, with Rex, Aileen and the wranglers joining guests at the tables for tasty main courses and homemade desserts created by Chef Michael and his kitchen staff. Plenty of hot coffee, ice tea and lemonade are always available, and the Cantina offers beer, wine and mixed drinks for adults.
There is something for everyone at the ranch. Families customize their vacation to fit their interests. As Rex described the schedule of activities each morning after breakfast, wranglers took a show of hands for those who were in or out for riding or excursions. Local gem mining, a waterfall hike, whitewater rafting or tubing are just a few of the optional excursions offered each day. Or you can opt to do nothing and just relax.
Horseback riding is the main attraction and the Clear Creek wranglers provide a sure-footed mount suitable for each rider, amateur or advanced. Each day, Crawford and I slid on our boots, put on our hats, and headed to the barn for morning and afternoon trail rides on our horses, Cody and Scarlet. The wranglers were fun, attentive and patient with the children and parents. Even the smallest buckaroo, 2-year-old Daniel, had some time in the saddle, led by his granddad, Don.
The horse painting ride, designed specifically for young cowboys and cowgirls, was one of my favorites — a highlight for the children, too. We dipped hands in washable paints and colored Big Bertha, our equine canvas.
With no cell service at the ranch, busy executives (or editors) and texting teens quickly unplug from technology, if reluctantly, and instead connect with family. But don't despair, there is WiFi at the main lodge if you must get your e-mail fix.
In the evenings, enjoy cookouts, line dancing, marshmallow roasts or a trip into town to hear some local mountain music. Our days ended at the main lodge, where we met with other guests for board games and a snack before retiring for a well-deserved night's sleep.
We fell in love with ranch life and the daily rides, surrounded by clean air and the natural beauty of the mountains. On our last day, I took in breath-taking views from the front porch while the children played out front with ranch dogs, Bandit and Saura. Like so many guests before us, it was hard to leave our ranch vacation.
If you go, you need to know…
Clear Creek Ranch
100 Clear Creek Drive, Burnsville
800-651-4510
www.clearcreekranch.com
Rates
June 6 – Aug. 15
*Adults: $240/day; $1,600/week
Children 5-15: $165/day; $1,100/week;
Children 2-4: $40/day; $250/week
Aug. 16-Sept. 30
*Adults: $195/day; $1,300/week
Children 5-15: $125/day; $800/week;
Children 2-4: $30/day; $190/week
All-inclusive rates.
* Per person/double occupancy.
Whitewater rafting fees additional.
Fall rates available online.