Enjoy New Foods, Rides and Exhibits at the 2017 North Carolina State Fair
The fair celebrates its 150th birthday with a special admission price on opening day, Oct. 12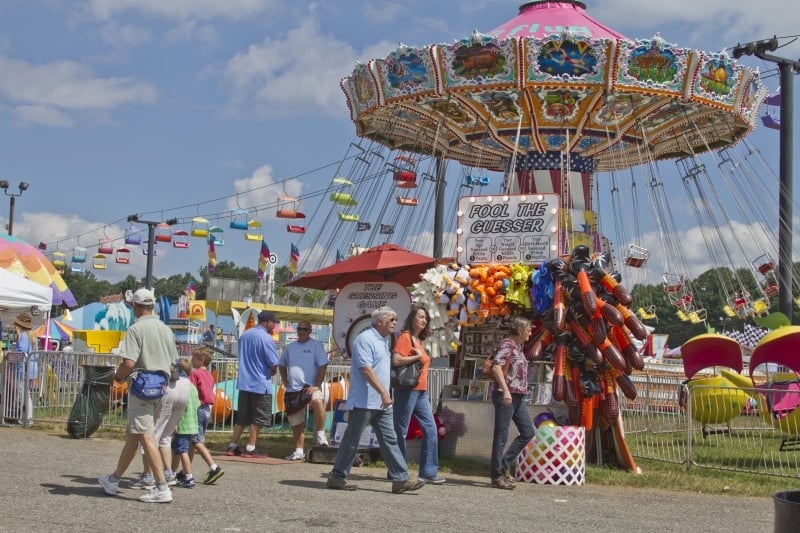 It's that time of year again! The North Carolina State Fair celebrates its 150th birthday this year and will run Oct. 12-22 at the State Fairgrounds in Raleigh. Here are the details.
---
Kickoff Day: Special Admission Price, Buttons, Prizes
The 2017 North Carolina State Fair opens Thursday, Oct. 12, with a special admission price, commemorative buttons, food specials and prizes in honor of the fair's 150th birthday. Here's what to expect:
On kickoff day only, admission to the fair will be $1.50. Gates will open at 3 p.m. that day.
The first 15,000 people through the gates will receive a commemorative button as part of "WRAL Button Bonanza."
Each hour, North Carolina State Fair staff will hand out 150 free ride passes and other prizes to people wearing the buttons.
Numerous food vendors will offer items for $1.50 on kickoff day.
"The 150th North Carolina State Fair is a milestone, and we wanted to do something special to celebrate," says Agriculture Commissioner Steve Troxler. "The fair is a great deal every day, but there won't be a better fair bargain than on Oct. 12."
Although the North Carolina State Fair has been around since 1853, it hasn't opened every year. Stoppages were caused by the Civil War and Reconstruction, the disbanding of the group that used to run the fair, and World War II.
---
Advance State Fair Ticket Sales
Fairgoers can save money by buying their fair tickets in advance at Food Lion grocery stores.
"For the second year, we are offering fairgoers the convenience of picking up their fair tickets while doing their grocery shopping," Troxler says. "Tickets will be sold at the checkout counters at Food Lion stores statewide until store closing on Oct. 12."
Advance admission tickets are $8 for adults and $3 for children, $2 less than the cost at the gate. Children 5 and under and adults 65 and over get in free. An 18-ticket ride sheet is $10 in advance, saving fairgoers $8 off the regular price.
Wristbands, State Fair Flyer tickets, specialty packages and admission tickets for large groups cannot be purchased at Food Lion stores. For more information on purchasing these tickets visit ncstatefair.org.
---
New Foods and Rides
Take a food adventure at the 2017 North Carolina State Fair by trying some of the fair's new offerings, including:
Deep Fried Pumpkin Pie
Bacon Mac & Cheese
Blue Hawaiian Funnel Cake
Cheerwine Cake
Deep Fried Bacon & Cheese Collard Bites
Flamin' Hot Cheetos Roasted Corn
Coconut Macadamia Nut Cream Pie
Check out a map of where you can find this year's new food options.
New rides include:
Air Raid (8 tickets)
F5 (5 tickets)
Fun Time Railroad (3 tickets)
Dodgems Chop Shop (5 tickets)
Find a full list of new foods, rides, exhibits and more here.
---
North Carolina Department of Natural and Cultural Resource Exhibits
Pirates are taking over the north lobby of Dorton Arena during this year's North Carolina State Fair as the North Carolina Department of Natural and Cultural Resources kicks off a celebration of the state's most notorious pirate, Blackbeard, for the 300th anniversary of his exploits along the North Carolina coast. Check out a replica of Blackbeard's flagship, the Queen Anne's Revenge, and join in on all the swashbuckling fun at the department's new exhibit.
Other exhibits will offer the chance to explore a working tobacco barn, learn about North Carolina state parks, and investigate North Carolina's historic sites, aquariums, zoo and museums.
Take a virtual bike ride through a state park, travel back in time to a state historic site, and see a ship's cannon undergoing restoration at the N.C. State Parks and Historic Sites exhibit just outside Dorton Arena. Enjoy kids' activities and crafts, and special programs lead by park rangers.
Discover a working tobacco barn in the Heritage Circle area, managed by Duke Homestead State Historic Site, the North Carolina Department of Agriculture and Consumer Services, and the North Carolina Tobacco Growers Association. See volunteers string and cure tobacco the old-fashioned way. Try your hand at looping tobacco and take a peek inside the barn to see the curing process. Catch the looping contest at 2 p.m., Oct. 13, and witness one of the last surviving (mock) tobacco auctions in North Carolina at 2 p.m., Oct.20.
Learn about the many ways you can explore North Carolina's history at museums, experience creatures from all over the world at the North Carolina Zoo or aquariums, or explore the natural world with the state's natural science museums at an exhibit in the north lobby of the Dorton Arena.
See interpreters portraying soldiers from throughout American history during the Military Appreciation Parade and historical uniform revue at 11 a.m., Wednesday, Oct. 18.
"We're always so excited to participate in the North Carolina State Fair," says Natural and Cultural Resources Secretary Susi Hamilton. "I know it's one of my favorite events of the year, and I hope that people will take the opportunity to visit our exhibits and learn about all the amazing experiences our department has to offer, all across our state."
This is DNCR's fourth year partnering with the fair to help visitors explore arts, history, nature and culture in North Carolina. Each year, the department's exhibit attracts about 250,000 visitors.
Sources: The North Carolina State Fair press office and North Carolina Department of Natural and Cultural Resources