Engaging Young Minds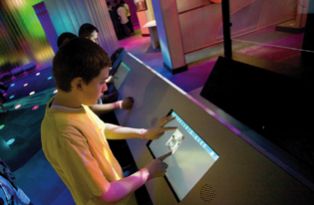 With schools cutting budgets across the Charlotte region, parents are taking a more active role in their children's education. More than just helping kids complete their homework, moms and dads are stepping up to help students learn how to invent and figure things out.
Today, significant classtime is spent memorizing facts and preparing for end-of-course and end-of-grade tests — in essence, inside-the-box thinking. But once students enter college or the workplace, they need to be able to think outside the box. Success beyond the classroom requires them to be independent, innovative thinkers with the ability to problem solve and be team players.
The importance of nurturing these skills in our children is more than just encouraging them to draw pretty pictures of purple houses and blue people. Many opportunities exist in the community to extend the school day (or week) with experiential learning at science centers and hands-on discovery at museums.
At Discovery Place's new exhibit, "Think It Up," children are encouraged to practice six invention behaviors: work together, spread the word, take a chance, try something new, be proud, find an idea, figure it out, and get into it. There are minimal directions at each center, so kids are left to use their imagination.
"In Think It Up, we seek to encourage innovation — trying new ideas, making something new, exploring creativity," says Joel Bonasera, exhibition designer at Discovery Place. "We provide the tools and canvas for our participants to engage in the act of creation. There are no real directions, only suggestions."
All the centers engage people of all ages — parents, too. Creations are left on display for others to enjoy or to use to help spark an idea for something new.
Logan Stewart, manager of marketing and public relations at Discovery Place says, "Think It Up is a great way for children to discover their own creativity and be proud of what they can do and what they can leave behind to inspire others who will visit in the future. Its a fun and entertaining exhibition that is more reminiscent of play than of science, but one of the best benefits is that it really builds confidence in kids and pushes their curiosity."
Children can turn a piece of tin foil into an object or dig into a bin of materials and create a new type of shoe. My daughter, Dakota, 9, still talks about the Make a Film center, where she used objects and a computer to make a mini movie. A fun addition to this activity is that the movie can be e-mailed to the child's home computer to share with family and friends — a great way to celebrate the inspiration and originality of the invention.
The state of education today — with large class sizes, minimal one-on-one attention and an increased focused on rote memorization — leaves little time during the school day to engage kids' analytical and innovative thinking. After-school and weekend visits to cultural arts centers and science exhibitions are essential to raising children with the skills they'll need to be the creative thinkers and leaders of tomorrow.
Kelly Ussery is mother and fourth-grade teacher in Fort Mill, S.C.