Encouraging Healthy Media Use for Kids
Encouraging a lifetime of healthy media use is more complex than ever before.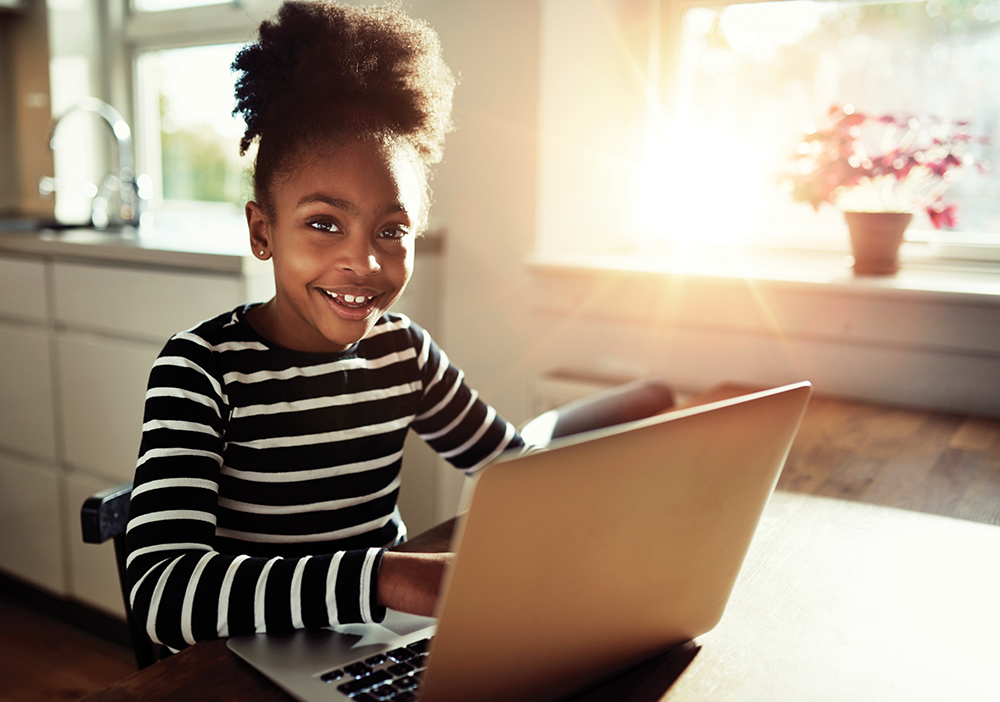 The two-hour screen time limit you've been imposing on your unwilling offspring may be on the way out. In 2015, the American Academy of Pediatrics released a set of more nuanced tips that acknowledge the realities of raising kids in a world fueled by technology. With the average American home having more screens than people, it's all too easy for kids to exceed the AAP's two-hour limit before they even get to school — and that doesn't include evening homework and entertainment time. It's clear that technology is central to modern life, and kids aren't exempt.
Ultimately, encouraging a lifetime of healthy media use is more complex than ever before, and it takes critical thinking, common-sense limits, and healthy modeling on the parts of parents and caregivers. Here's help.
---
Ages 0-5
Virtual Reality
Per Common Sense Media, 30 percent of babies play with mobile devices. The AAP recognizes that these days, preventing babies from viewing screens is all but impossible. Parents, however, need to be careful about little ones' media use, and choosy about what media their tots see and use, says Raleigh-based parenting coach Colette Segalla. Prioritize media that encourages two-way communication, like video chatting with a relative instead of more passive forms of entertainment. The AAP recommends co-viewing media content with toddlers and discussing what's onscreen to provide vital context that encourages learning. And remember that the critical milestones that occur during the early years of life — from grasping the subtleties of language to learning about the empathy — can't be learned from a two-dimensional screen.
"A flower on a screen can't compare to a real flower, which has its own texture, dimension, fragrance and living quality," Segalla says. "So although the virtual world might not be detrimental in itself to babies and toddlers, it can't substitute for interacting with the real world."
---
Ages 6-12
About Time
One reason for the AAP's new recommendations: The huge gap between their two-hour screen time limit and the seven to eight hours kids actually spend in front of screens. By recognizing this discrepancy, the AAP aims to strike a more realistic balance for today's families. But that doesn't mean kids should go on a screen time binge. How can parents keep screen hours in check for grade-schoolers? The AAP stresses that "content matters," and encourages parents to think about the ways children use screens instead of merely setting a timer, Segalla says. Start by selecting the best content for your kids. Check out curated lists at commonsensemedia.org for highly rated educational shows, games and apps. The AAP encourages co-engagement, like playing video games or viewing content with your child, in addition to maintaining tech-free family time and daily unplugged play, and keeping electronics out of kids' bedrooms.
---
Ages 13-18
Friend Zone
Teens' increasing needs for autonomy and social belonging mean they spend more time online — and the AAP says that's OK. Once frowned upon for teens, social networking is now recognized as vital to teenage identity development. It's up to parents to help teens learn appropriate social behavior both online and off, and to cultivate a healthy sense of balance between online and offline worlds, says Joe Hernick, director of Educational Technology at Charlotte Country Day School. One balance-promoting tactic: require teens to unplug in the last hour before bed. This promotes restful, regular sleep patterns that late-night screen time can disrupt and curtails unhealthy behaviors like all-night text-a-thons.
"This can be a simple step to improve family interactions and help identify unhealthy online habits in children," Hernick says. "If the 'screens dark at night' step causes distress or anxiety, you've found your starting point for family discussion."
---
Malia Jacobson is an award-winning health and parenting journalist and mom of three.