Emily Maynard's Holiday Jewelry Picks
Emily Maynard's favorite holiday pieces from her jewelry line by Towne and Reese.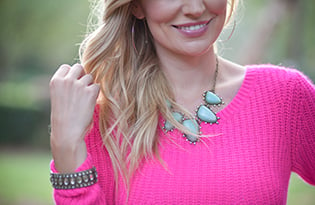 We had a ton of fun at the cover shoot for our November issue with Emily Maynard and her sweet daughter Ricki. Emily is even more gorgeous in real life than she is on television, and her sweet demeanor shone through just as clearly as the bling she was rocking from her new jewelry line by Towne and Reese. See below for Emily's favorite jewelry picks for the holiday season, then check out our cover story to find out how Emily makes the holidays sensational as a single mom.
Date Night
Though the holidays are busy, it's healthy for mom to make time for romance and a night on the town. Spice up your wardrobe with these worldly picks for a date night that your honey won't soon forget.
Mason Earrings
The Mason earrings pair trendy color with a spirited and spunky design to create a look that is long on style. $55.

---
Lane Cuff
Convey cultured and worldly style with the bold and detailed pattern of Lane in two fabulous finishes. $65.

---
Anna Banks Ring
A statement was never more easily made than with the Anna Banks ring. The turquoise and gold finish give this ring an unparalleled versatility for any occasion. $55.

---
Holiday Cocktail
Turn heads at parties this holiday season with these stylish gold and silver accessories.
Taylor Earrings
Taylor weightlessly dangles from the ear to catch the light and amp up any look for a night out. $65.

---
Virginia Necklace
The Virginia pulls double duty as a statement necklace that pairs as perfectly with a little black dress as a simple white tank. $85.

---
Morgan Bracelet
The Morgan bracelet is big on style with a refined design and shimmery stones set against an antiqued finish. $90.

---
Ashley Ring
Ashley raises the bar on amped-up style and inspires a unique and always on-trend look. $50.

---
See Also:

How Emily Maynard Makes the Holidays Sensational as a Single Mom